Prof Markus Borner
Published: 19 February 2020
A tribute to Prof Markus Borner, who sadly passed away on January 10, 2020...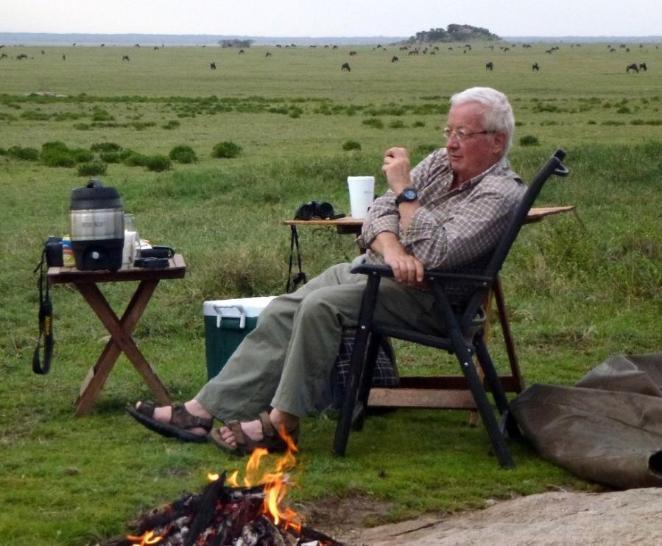 In a career so profound in its impact and so rich in adventure, it is difficult to know where to begin when describing the contributions of Prof. Markus Borner. Over his 43-year period in African wildlife conservation, Markus energized and inspired protected area management from the Ethiopian Afro-alpine, to the mountain gorillas in the DRC, to the huge expanses of savannahs and miombo wilderness in Tanzania, Zambia and Zimbabwe.
From his small unassuming office in the middle of the Serengeti National Park where he led the Frankfurt Zoological Society Africa program, he master-minded the allocation of millions of dollars for conservation projects across the continent. In later years as an honorary professor at the University of Glasgow he continued mentoring conservationists, creatively combining people and opportunities, founding, resourcing and teaching on our Karimjee Conservation Scholars program, and pushing the protection of wilderness to the forefront of national and international policy. For those who worked with Markus, it is clear how deeply his tap-roots were interwoven into the fabric of African conservation and the appreciation African governments continue to hold for him to this date. His influence and dedication shaped many of the iconic protected areas that are flourishing in East and Central Africa such as Bale Mountains, Virunga, Rubondo Island, Mahale Mountains, Serengeti, Masai Mara, Tarangire, North Luangwa, Gonarezhou, Selous, Ngorongoro and the list goes on.
Markus was consistently clear, decisive and unapologetic in his support for protected areas. He prioritized wilderness and biodiversity above all else, even in the face of seemingly insurmountable odds. His determination continued unwaveringly through the decades of hardship in Tanzania, the collapse of Zimbabwe when the international community withdrew support, and the civil war in the DRC that made conservation incredibly challenging. Markus intentionally flew his signature zebra-striped Cessna (the trade mark of Frankfurt Zoological Society), often against substantial international political headwinds, to the most troubled areas in the continent in a show of solidarity for local conservation leaders and to bring much needed support to protect gorillas, rhinos, chimps, wild dog, lions, or any other creatures imperiled by human activity. He chose local heroes wisely, and instinctively, based on their passion, and provided them with the space and resources to flourish. This strategy resulted in strong personal relationships that lasted throughout his lifetime and were hugely influential in making concrete advances in protecting biodiversity. He remained critical of fair-weather conservationists and funders who were not willing to provide support through both thick and thin, arguing that once protected areas are lost, they are gone forever. His unadulterated joy for nature and appreciation of wild places was part of his ethos and vision – a pillar that he shared widely with everyone he encountered. Markus's mantra that good science, good friends, and good food led to good protected area management made his arguments persuasive. Laughter was a constant companion, always seeping through the walls of any meeting he brokered.
His influence in wildlife conservation was uncompromising, unrelenting and unmatched. In an age when the loss of biodiversity has never been greater, Markus's vision is best summarized in his distinctive email signature:
"In the future the greatness of a Nation will not be judged by its advance in technology or by its achievements in architecture, art or sports, but by the amount of nature and biodiversity that it can hand over to the next generation."
It is with great sadness that we say good-bye to an unerring conservation optimist and leader for so many people at the forefront of conservation of the last great ecosystems. On January 10th, 2020, Markus met his proverbial crocodile – following a short skirmish with a rare condition called myelodysplastic syndrome. He never wanted to break up a good party, always entering through the front door, but exiting by the back door. He left us on his own terms, quietly and unobtrusively. He leaves family in Switzerland, the UK and the USA, friends all over the world, extraordinary and often hilarious memories for us all, and his extended legacy of all those he mentored in Africa.
---
First published: 19 February 2020