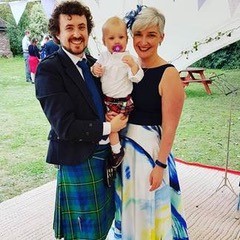 Dr Gill Wilson
Dr Gill Wilson moved to the Chemokine Research Group within the Institute of Infection, Immunity and Inflammation as a post-doctoral Research Associate in 2014.
"I really enjoy working in the department and have been involved in a number of exciting projects, which have helped me build my CV and publication record. I have a great mentor through the mentoring scheme which I have found really helpful. I am applying for fellowships and have had a lot of support from senior staff in the department, from reading ideas through to scary (but absolutely essential) mock interviews.

My son Alex was born in 2016. I then took 6 months of maternity leave, after which I shared the remaining 3 months of my parental leave with my husband, through the Shared Parental Leave scheme. Now Alex is at nursery full time and my husband and I share childcare responsibilities equally. Childcare Vouchers help towards the costs and the 'keep in touch days' are a really great way to keep up to date with projects. This also meant returning to work didn't feel so daunting.

I have been well supported since my return to work. Late night experiments can be a bit of a challenge but I am able to work flexibly which helps with unexpected nursery pickups. We are both working full time which can mean that our house is a bit untidy at times but we are able to make it work, and we manage to spend a lot of time with Alex."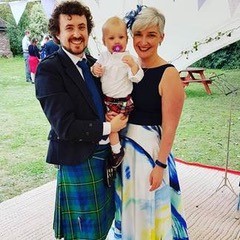 Sancha Martin
Sancha Martin started her career in research management at the Wellcome Trust Sanger Institute in Cambridge where she managed large international consortia before joining the Institute of Cancer Sciences at the University of Glasgow in 2015.
In January 2018, she was appointed as the Immune-Mediated Inflammatory Disease Biobanks in the UK (IMID-Bio-UK) Project Manager and moved to the Institute of Infection, Immunity and Inflammation. This complex project involves clinicians, researchers, charity and industry partners who are working together to unify existing disease biobanks in order to facilitate precision medicine for immune-mediated inflammatory disease.
"Returning to Scotland after 17 years in England with a 13-year old was something of an undertaking but it was a considered and valuable step forward along my career path.

I consciously decided to live nearer to my family in order to make the move easier for my son. This meant living outside Glasgow and so commuting became, and still is, a significant part of my day. Initially this meant that my work/life balance was a little off kilter - I was leaving home at 7am and returning around 6.30/7pm most days.

At that time my son was preparing for National 5 examinations and I felt it was important to be around as much as possible. Flexible working hours allows me to come into work earlier, avoid the rush hour at either end of the day and be home for 5.30/6pm most evenings.

I can also work from home one day per week because much of my work is carried out online, via email or teleconferencing and I am responsible for setting and completing my own workload in the main.

By having a dedicated work station at home, I can work in the same manner as I do when physically in the building whilst having an extra few hours back in my day which provides a much better work-life balance."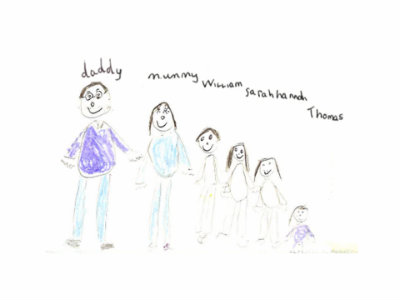 Sarah Nibbs' family portrait (2006)
Professor Robert Nibbs
Robert Nibbs is Professor of Chemokine Biology and Deputy Director of the Centre for Immunobiology in the Institute of Infection, Immunity and Inflammation. Playing a lead role in Immunology teaching at the University, his research aims to understand the physiological and pathological function of chemokines and their receptors, a large family of molecules that direct the migration and localisation of immune cells.
‌"From 1994 to 2005, I worked as a postdoc and research fellow at the Beatson Institute in Glasgow. By April 2005, I had four children, a decent CV, a contract ending in a month, and several failed job/fellowship applications.

Fortunately, I got a Senior Lecturer position at Glasgow University in the Department of Immunology, which later became part of the Institute of Infection, Immunity and Inflammation. Luck, hard work, supportive mentors and good collaborators helped secure promotion ‌to Reader in 2010 and to Professor in 2012.
My wife and I share childcare responsibilities, and I have had the huge pleasure ‌of spending a lot of quality time with my children while they've been growing up. However, it has always been a challenge to fit work commitments and professional ambitions into a healthy family life.

Flexible working practices have helped, and the Childcare Voucher Scheme has provided financial support, but late nights in front of a computer and an adjustment of professional expectations have also been necessary.

A loving, supportive and patient partner has also been enormously helpful. Until recently, family/work life balance was an issue rarely discussed formally at work, despite being a regular topic of conversation at home. It is very encouraging to see that this has now been placed more firmly on the agenda.

I have no doubt that it has the potential to help talented young men and women with children progress and succeed in our Institute, and to support them as they find imaginative ways of balancing their rewarding obligations as a parent with their professional ambitions as an academic."‌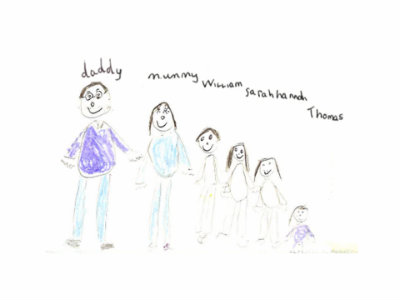 Sarah Nibbs' family portrait (2006)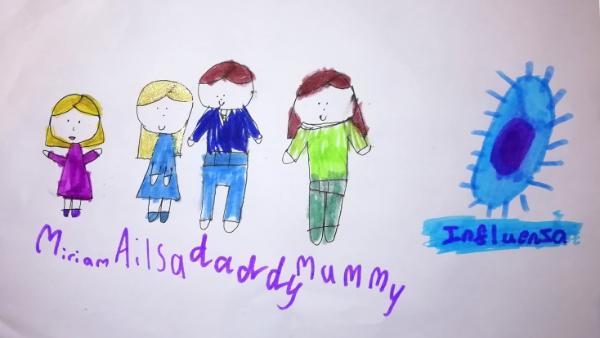 Ailsa Hutchinson family portrait (2020)
Dr Edward Hutchinson
Dr Ed Hutchinson moved to Glasgow with his family in 2016 to set up a research group at the MRC-University of Glasgow Centre for Virus Research (CVR), where he is currently a research fellow. Before this he was a postdoctoral researcher at the University of Oxford.
"We moved to Glasgow so that I could take up a position at the University, which was a fantastic professional opportunity for me but posed obvious challenges to us as a family.

At the time our eldest daughter was in nursery, her sister was just over six months old, and my wife was still on maternity leave; we did not know Glasgow at all or anyone in it.

Since then a lot has changed for us as a family. We've found our way around Glasgow and found friends nearby. My wife returned to work with the NHS as a midwife, and later changed careers to work with Child Bereavement UK.

Our daughters have been looked after by - for various reasons - a succession of nurseries, the cost of which was subsidised by the university's Childcare Voucher scheme. The eldest is now at school and her sister will join her there this summer.

Childcare has always been a logistical challenge, which we have been able to deal with because of a number of factors: my wife's decision to work part-time, the flexibility of the timings of my own work at the CVR, and teaming up with friends with similar issues.

There are still many challenges, but even during the time I've worked here things within iii have improved, with the growing recognition of the need to schedule key events in core hours making a particular difference in my case."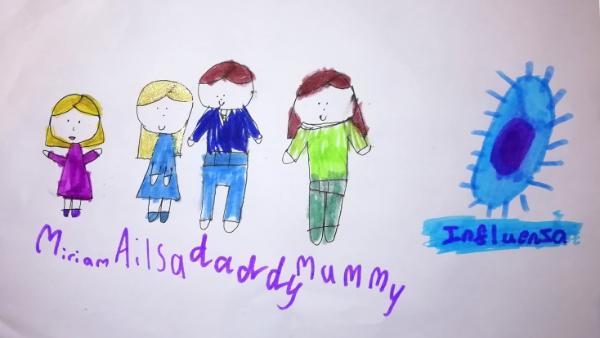 Ailsa Hutchinson family portrait (2020)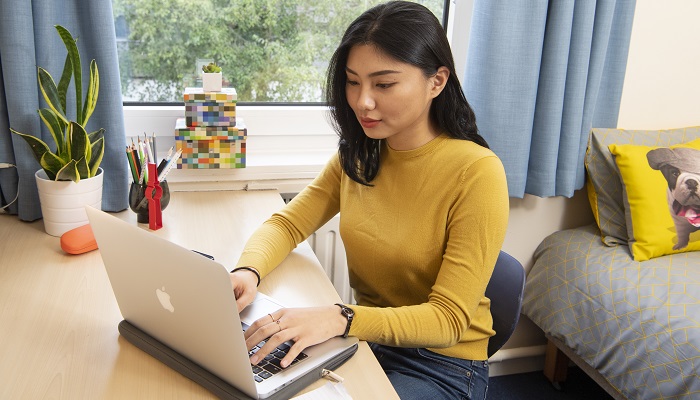 Flexible Working - Case Studies
Find out more about UofG staff making use of the Flexible Working Policy here.
Find out more about UofG staff making use of the Flexible Working Policy here.