Dr David Bailey - Research Interests
Dr David Bailey - Research Interests
Senior Lecturer in Marine Ecology
Ecology and physiology of marine animals
Dr David Mark Bailey
Institute of Biodiversity, Animal Health & Comparative Medicine
College of Medical, Veterinary & Life Sciences
Room 514, Graham Kerr Building
University of Glasgow
Glasgow
G12 8QQ
Tel +44 (0)141 330 8183
Fax +44 (0)141 330 5971
Skype ID davidmbailey
@davemarinebio
I am a marine biologist with broad interests. My research group work in all marine environments from Antarctica to coral reefs, and also around Scotland. The main theme is the conservation and management of marine systems and I also have a long-standing interest in deep-water biology.
Further information - complete listing
Academic History
Academic History
May 2007 Lecturer, Division of Environmental and Evolutionary Biology, University of Glasgow
2004-2007 Post-doc University of Aberdeen and Scripps Institution of Oceanography, University of California, San Diego
2000-2004 Post-doc. Oceanlab, School of Biological Sciences, University of Aberdeen
1997-2000 PhD Student, University of St Andrews and British Antarctic Survey
1996-1997 Research Assistant Tropical Marine Research Group, Department of Biology, University of York
1995-1996 MRes Ecology and Environmental Management. University of York
1994-1995 Environmental Division, Scott Wilson Kirkpatrick and Partners, Consulting Engineers
1991-1994 University of Plymouth. BSc (Hons) Biological Sciences
Deep Water Biology
Deep Water Biology
The oceans cover 70% of the Earth's surface and about 80% of this water is more than 1000 m deep. The average depth of the ocean is about 3700 m. As a result, deep-water environments are the most common habitats on the planet. Despite this, they are not well-understood, mostly because of the technical challenges involved in studying the deep-sea.
My work has involved basic studies of the physiological characteristics and behaviour of deep-water fish, but most recently has focussed on how fish are distributed and how this has changed over time. Click here for further information
I have helped show how fishing impacts spread deep into the oceans, but also that fish communities in deep-water systems can change quite dramatically due to natural variations in climate Click here for further information
I am involved with studies using several methods: Autonomous landers, deep-water trawling, Remotely Operated Vehicles and Long-term Observatories
One of the most useful deep-water technologies are landers, autonomous vehicles which sink to the seafloor and make observations under the control of onboard computers. Examples of some of these activities are below. This is work I did with Scripps Institution of Oceanography and Oceanlab.
The back deck of the RV New Horizon. In the centre of the deck I am working on the Sprint video lander. I used this lander to study fish and crustaceans to depths of more than 4800 m in the Atlantic, Pacific, Mediterranean and Norwegian Fjords.
It is used to study animal behaviour and swimming speeds, for instance these studies in crustaceans and deep-water eels.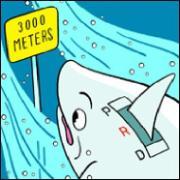 In 2006 I was part of an international group which showed that sharks, rays and chimaeras do not live deeper than 3000 m (see article - Absence of sharks from the abyssal regions). We found this out by trawling and deploying baited camera all around the world, and we never found sharks deeper than around 3km.
This cartoon from the New York Times was one response to the story. We don't know why sharks do not live deeper than this, but it means that all sharks are within the range of commercial fishing boats.
The view from the Remotely Operated Vehicle JASON II, operated by Woods Hole Oceanographic Institution. We used the ROV to capture sea urchins at 4100 m in the Pacific Ocean and measure their metabolic rates in the circular chambers on the left side of the platform.
Long-term observatories
Long-term observatories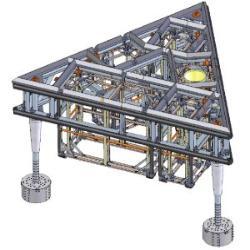 Deep-sea fishes are generally badly understood, and getting more long-term data on their populations is important. In 2006 we discovered that deep-sea fish numbers had increased dramatically in one area of the North Pacific. For more information on this story check out these radio clips on NPR and AAAS. Spot the deliberate mistake in the NPR report.
As part of a consortium of UK and US universities and our industry partner BP we are trying to improve the science and management of the deep-sea by building long-term biological observatories in deep-water. The Deep-ocean Environment Long-term Observatory System (DELOS) project is scheduled to install two observatories at around 1500 m depth off Angola in late 2007.
This is a diagram of one of the observatories, which was designed and assembled in 2007. Each side of the triangle is about 8 metres long, and the frames within the triangle carry scientific instruments such as cameras and current meters. For me details see the main DELOS page.