Find out more:
RCP National Clinical Guideline for Stroke
Institute of Cardiovascular & Medical Sciences
Improving rehabilitation after stroke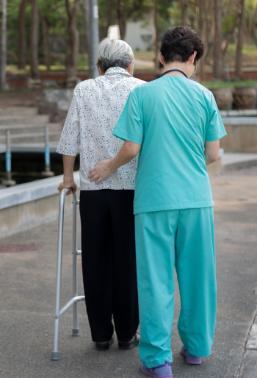 Stroke affects 15 million people worldwide each year, with 5 million stroke survivors experiencing reduced quality of life owing to physical and/or cognitive disabilities. Post-stroke rehabilitation is a multifaceted and potentially lengthy process that aims to increase levels of mobility or movement, activity of daily living and general well-being. Despite ongoing improvements in stroke care, lack of clarity has existed about the components of rehabilitation that are key to ensuring good functional and quality-of-life outcomes. University of Glasgow stroke specialist Professor Peter Langhorne led investigations into two discrete practice-based interventions—very early mobilisation and early supported discharge (ESD)—that are intended for use in hospital and community settings, respectively. The University of Glasgow research findings informed UK, European, US and Australian stroke guidelines (2016–2019). These guidelines recommend the timeframe when in-hospital mobilisation should (24–48 hours) and should not (<24 hours) be undertaken. They also recommend early supported discharge to aid patients' transition from hospital to home. Specialist early supported discharge services are now provided by 143 teams in the UK, with the proportion of stroke units resourced with at least one specialist ESD team rising from 74% to 85% from 2014-2019. This type of support benefits survivors through improved independence and daily life activity, with annual savings over 5 years of £1,600 per patient for health care and £8,400 for social care.
Research funded by National Institute for Health Research.