We're transforming bowel cancer screening
We're transforming bowel cancer screening in the UK by developing a diagnostic tool that uses artificial intelligence to predict which patients will develop pre-cancerous lesions (polyps) and tumours.
Bowel cancer screening detects tumours and polyps in patients without symptoms, identifying cancers early when they're easier to treat successfully.
Currently, all patients found to have polyps are scheduled for repeated colonoscopies, meaning that many people undergo unnecessary and invasive procedures.
In collaboration with the NHS and Scottish tech companies, the University of Glasgow-led Integrated Technologies for Improved Polyp Surveillance (INCISE) £3.37 million project will identify patients who would benefit the most from further colonoscopies so they are seen earlier, and any cancer can be treated sooner.
INCISE will combine polyp tissue and data from the NHS Greater Glasgow & Clyde Scottish Bowel Cancer Screening Programme to train algorithms that predict patients' future risk. Researchers will combine information about specific changes in the polyp's structure with new analysis of the genetic mutations that cause polyps to grow.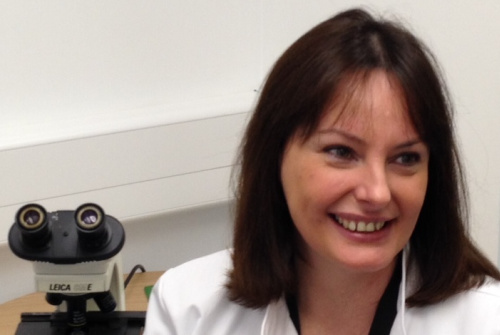 Professor Joanne Edwards is Professor of Translational Cancer Pathology at the University's Institute of Cancer Sciences.
"UofG has wide experience in all aspects of colon cancer. By combining our knowledge with industry partners and the NHS, we can harness the power of artificial intelligence to assess which patients are prone to polyps and need further colonoscopies.
"By better predicting the needs of individuals, we can help patients avoid procedures that do not benefit them, while reducing the burden and cost to the NHS.
"We are thrilled to receive support and funding from UKRI, which will help us develop a programme that will hugely benefit both patients and our NHS."
This project is made possible with £2.3 million of government funding provided through UK Research and Innovation's (UKRI) Industrial Strategy Challenge Fund and £1.1 million from University of Glasgow and industry partners.
UKRI's Industrial Strategy Challenge Fund is investing £210 million overall in the UK to support the development of precision medicine for improved early diagnosis and treatment. Cancer Research UK have contributed £3 million to the cancer-focused projects.
Iain Stewart, UK Government Minister for Scotland:
"It's great that the UK Government and Cancer Research UK have joined forces to speed up life-saving cancer diagnoses across the UK. Here in Scotland this will help fund this cutting-edge project led by the University of Glasgow on bowel cancer.
"This all-important funding will allow our world class academic and research teams in Glasgow to develop the specialist technology needed to detect this life-threatening disease not only earlier but with more accuracy. This will make a real difference to individuals and their families and help save lives not just in Scotland but the wider UK."