Schools View Ultrasound Needle Innovation
Glasgow hosted the IEEE IUS 2019 conference in October, co-chaired by Ultrasurge's Prof Margaret Lucas and Prof Sandy Cochran. A public outreach event was held in the Glasgow Science Centre, with 600 local schoolchildren participating in a number of ultrasound related exhibits.
Amongst them, Dr Rebecca Cleary, showed off the ultrasound actuated biopsy needle she has been developing with a local ENT surgeon. The Phacon head is used to train surgeons to operate on the skull without damaging crucial nerves. It was used to help develop a needle used in the correct way by a surgeon wanting to do a biopsy of the petrous apex, one of the hardest parts of the skull.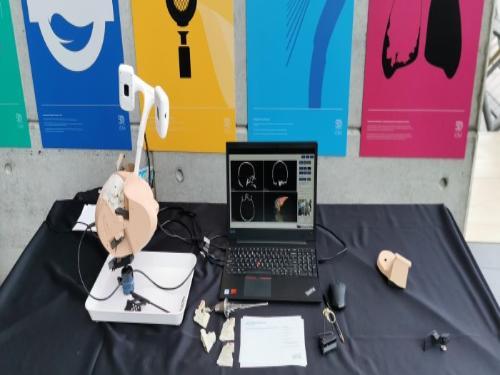 ---
First published: 27 November 2019