University of Glasgow undergraduate iGEM team wins gold medal
During the Halloween weekend, the city of Boston saw for the 12th time, thousands of university and high school students from around the world competing in the iGEM 2016 Giant Jamboree. This is the world's premier synthetic biology competition, showcasing innovative and responsible biologically-engineered solutions to real-world challenges.
The Glasgow iGEM undergraduate team (Figure 1), assembled 6 molecular biologists, 3 biomedical engineering students, and one student from computing science. They worked for 12 weeks over the summer to deliver a synthetic biology project, which they presented to more than 300 other iGEM teams, and to the judges, who awarded their project a gold medal. The Glasgow project was also shortlisted for best measurement and best entrepreneurship project (read the full results of the project).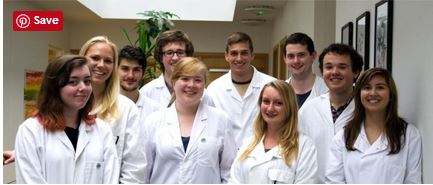 Figure 1. The Glasgow iGEM team 2016, from left to right Katherine Baker, Pinja Hartikainen, Matej Vucak, Liam Pollock, Catriona Watson, Simone Marcigaglia, Lynsey McKerrel, Fergus O'Brien, Oliver Hawes, and Deanna van Spall.
The Glasgow project, 'GlasYo', was aimed at developing a yogurt supplemented with vitamin A to counter malnutrition in resource limited settings. The team engineered yogurt bacteria and produced beta-carotene (a precursor converted to vitamin A in the human body) in a genetically-modified bacteria.
The team also considered the social and ethical implications of their work. They engaged with social science experts and Glasgow Polyomics to develop a 'self-inactivated mechanism' engineered into bacteria, to prevent its survival inside the human body or upon accidental release in the environment (outside of the yogurt environment).
Following discussions with community actors in India and Africa, the students developed a temperature-controlled solar oven to serve as an accessible piece of hardware to allow the production of the supplemented yogurt in low-resource settings, a concept commended by the judges for its entrepreneurship.
The team was supported by Dr Sean Colloms, Dr Julien Reboud, as well as PhD students James Provan and Mhairi Davidson, aided by Zuhair Elgaid (undergraduate in Biochemistry). They obtained a gold medal for the third year running, and were nominated for two special prizes, testament to the hard work and dedication they put into their work over the summer.