Useful links
Filmmaker-in-Residence
Simon Bishopp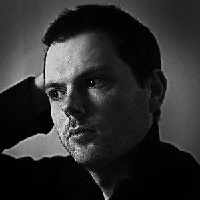 'I'm a Glasgow-based filmmaker and I specialize in documentaries and educational films.
I've also worked in feature films, music videos and commericials and I have a keen interest in visual effects and spend most of my free time creating and animating computer-generated characters, usually dragons and dinosaurs. I've worked in media for 17 years and I studied at the Northern School of Film and previously I worked for the BBC as a documentary camera operator.
I have a passion for telling stories through film and have always loved working in all areas of film-making, from storyboarding and writing, to directing, photography and composing music. I'm lucky that my job is to help people share stories that matter and to collaborate and learn from them. Whether in a documentary interview, a narrative film or creating a video for a song, a poem or a story, there's always something special about the making of a film, when a group of people come together with something they want to say. I think my job is to help them say it as effectively as possible.
In my spare time I make short films and recently finished a 15 minute animated film that has taken 18 months to complete and involves robots and vikings, Mars and Glasgow. The Robot and the Viking is a short film about a friendship between two very different characters who find they have much in common. It is also about the difficulty of leaving a home and finding another. It was inspired by the work of Cosgrove Hall and Nick Park's animations, which I grew up with and loved. The film took me 2 years to complete and mixes traditional hand animation, computer animation and live action.'
Useful links