Useful Links
Musician-in-Residence
‌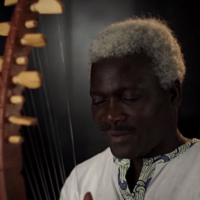 '‌I first trained as a teacher, then as a theatre director and later as a film and television director/producer in Ghana between 1977 and 1995. Before moving to Glasgow in 2003, I worked at the Centre for Cultural Studies, Kwame Nkrumah University of Science and Technology, The School of Performing Arts University of Ghana, and as a freelance arts consultant for numerous NGOs including BBC World Service Trust, Centre for the Development of People (CEDEP) Centre for Sustainable Development Initiatives (CENSUDI) and Ghana Government Agencies like the Ministry of Health and Ministry of Agriculture, delivering staff training in Multimedia Communication and research. I have also worked extensively in the Ghanaian television industry both as a performer, director and producer and trainer. I was a youth Magazine Programme Producer at TV3 Network as well as a trainer for broadcast journalists when TV3 Network was established in Ghana in 1997. I have featured on Ghana National Television (GTV) between 1982 and 2006 as a traditional African musician and storyteller, on the popular children's Saturday programme 'By The Fireside' as 'Grandpa' working with many schools, and communities, involving numerous children and youth in developing stories, scripts and producing them for broadcast. I also directed children's musical productions for the Ghana National Theatre Children's festival 'KidaFest' supported by the Goethe Institute Ghana.
I am currently an AHRC PhD Scholar on the Researching Multilingually at the Borders of Language the Body Law and the State (RM Borders) Research Project. I was appointed Artistic Director of Pan African Arts Scotland (PAAS) in 2006 where I have delivered numerous arts projects programmes and partnership initiatives including Hesu which I founded as the first PAAS African-Celtic fusion resident band and later the Glasgow Highlife Band and in 2014, Ha Orchestra the first Africa Orchestra in Scotland. Ha was set at the invitation of the Glasgow 2014 Commonwealth Games Cultural Festival. This is a partnership initiative between Pan African Arts Scotland and GRAMNet – and an output of the RM Borders Research Project.
My carrier has a particular focus on arts, language and creativity, movement and migration, youth development and informal education for children through multiple arts engagement. I trace my passion for music as far back as I can remember to pre-school years, following my young aunts to their dance club rehearsals called 'Cantata' in Keta my hometown. This passion for traditional Ghanaian music led me to develop special skills in playing a range of traditional African instruments including the Kora, Seprewa, (West African Harps), the Gyle xylophone, a range of African drums, the Atenteben flute (a Ghanaian Bamboo flute). Now I incorporate these skills in all my work, from filmmaking to theatre work to storytelling and in research.
I was nominated for the Critics Award for Theatre in Scotland (CATS Award) 2015 and became a co-winner of the Music and Sound Category, for my music work on Last Dream (on Earth) production 2015. Produced and Directed by Kai Fischer with Support from The National Theatre of Scotland and Creative Scotland.
I currently serve on the University of Glasgow's GRAMNet Advisory Group. I was appointed GRAMNet Musician-in-Residence in 2015. I use my knowledge and musical skills as an essential cultural diplomacy and communication, knowledge exchange and public engagement resource for GRAMNet and its members. My plans as part of the residency include the development of a Migrants arts Network within GRAMNet in collaboration with my colleague artists-in-residence'.