Masters in Gender History
The Masters in Gender History provides the opportunity to develop and deepen analysis of the workings of gender in the past. Alongside the University of Glasgow's Centre for Gender History, which brings together one of the largest concentrations of gender historians in the UK, the programme encourages comparisons across time and cultures as well as allowing in-depth research into particular questions.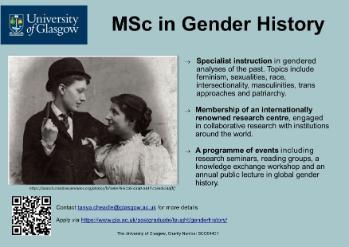 MSc Global Gender History (online)
The Masters in Global Gender History (online distance learning) offers online, vocationally-orientated tuition in gendered analyses of the global past. Expert instruction is provided by world-leading scholars from the Centre for Gender History, working in partnership with heritage, media and third sector professionals. Together, they will provide you with the skills necessary to evaluate and propose initiatives to gender, queer and decolonise historical narratives. A key strength of the programme is its flexibility. It can be taken full or part-time from September or January, its accessible digital learning environment allowing you to fit your studies around your life.