Our Approach
Over the past ten years we have seen significant viral outbreaks occur globally, including MERS, Ebola, and SARS-CoV-2. The combined impact of urbanisation, globalisation, and growing international mobility is expected to drive future outbreaks in the decades ahead as both known and novel viruses emerge and spread around the word.
Whilst the nature and source of future viral threats are difficult to predict, at the CVR, we are continuously innovating to ensure we are ready and able to respond.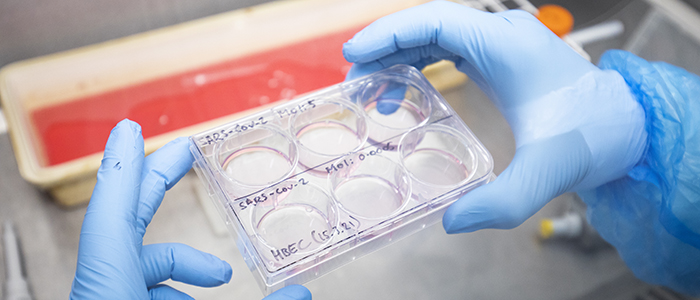 Multidisciplinary, multilevel, multi-partner research
Tackling the global threat of viruses requires a multidisciplinary, multilevel, multi-partner approach, and this forms the basis of our research strategy. This distinctive holistic approach combined with our world-leading infrastructure, ability to attract talented early career scientists, established global partnerships, and our proven capability for transformative real-world impact ensures the CVR will continue to play a vital role in the response to future viral challenges both nationally and internationally.
One Health
The Centre for Disease Control estimates that 75% of new or emerging infectious diseases in people come from animals. At the CVR, we therefore integrate human and veterinary virology expertise, taking a One Health approach, studying viruses at the human-animal interface.
Investing in integration
The CVR is a designated OIE Collaborating Centre for Viral Genomics and Bioinformatics. Virology research, like many disciplines, has experienced a data explosion over the last decade. We actively invest in computational biology capacity and capability, co-locating more than 20 bioinformaticians and software developers alongside "wet lab" virologists.
This integration accelerates the development of software tools, used within and beyond the virology community.