2019 Glasgow Graduate Conference in Epistemology and Mind (GEM)
The University of Glasgow will be hosting the inaugural edition of the Glasgow Graduate Conference in Epistemology and Mind on May 13th-14th 2019. The conference will bring together early career researchers in epistemology and philosophy of mind (broadly construed) with the aims of fostering collaborations, exchanges of ideas, and cutting-edge research within these subdisciplines and at their intersection.
Epistemology and philosophy of mind are thriving in Glasgow. It is home to the Cogito epistemology research group, a strong research cluster in affective experiences including emotions, pain, and suffering, and the Centre for the Study of Perceptual Experience.
The GEM will consist of eight graduate students talks (four in epistemology and four in philosophy of mind) and two keynote talks.
We are very excited to announce this year's keynote speakers:
Professor Berit Brogaard (University of Miami)
Professor Peter Graham (University of California Riverside
For more information, contact Jennifer Corns (Jennifer.corns@glasgow.ac.uk) or Mona Simion (mona.simion@glasgow.ac.uk)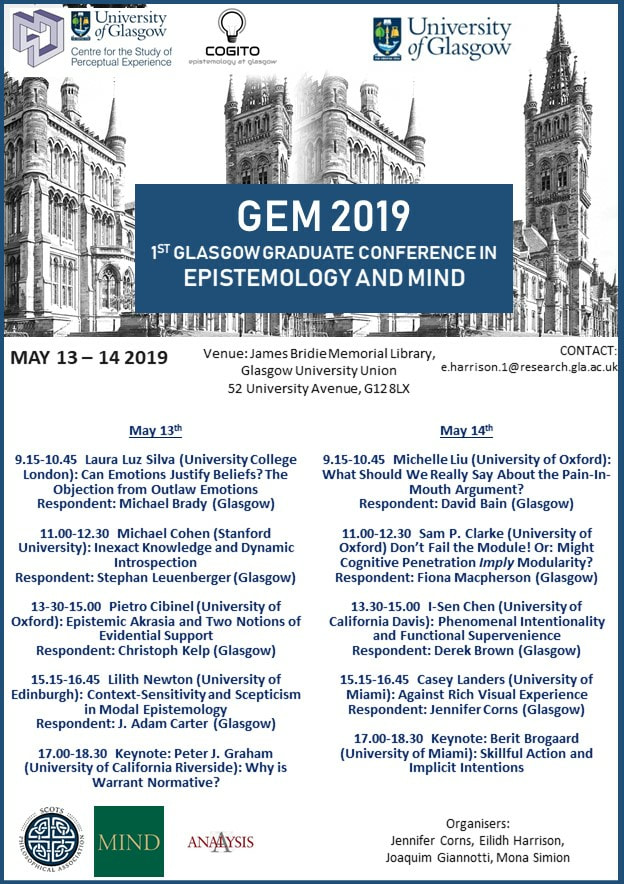 ---
First published: 11 December 2018