Background
Background
This one-year Masters programme is unique within academic art history departments in the UK and internationally. The University of Glasgow is the first to offer this novel and fascinating course with its strong focus on object-based, interdisciplinary research. Object-based research can be used to establish the story line and aided by art historical and art technological source research, as well as scientific analysis and other research strands specifically required for the object, this biography can be written with a strong focus on the 'act of making'. Attribution, authentication, and understanding present day appearances of the artwork may also be part of the research.

Making gesso sottile
Researching the all-inclusive story of an artefact is very much the objective of what is now generally called technical art history, a recently emerging interdisciplinary research area linking together art historians, conservators and conservation scientists, but also reaching out to other disciplines such as social and economic history, history of science and aesthetics. Technical art history embraces every aspect of artistic production, from the pigment trade and manufacturing to idiosyncratic preparation methods by a single artist or workshop, from medieval monasteries to Barbizon en plein air, from autograph to workshop collaboration: 'It acknowledges – celebrates – the artist at work and the act of making' (David Bomford, in Looking through Paintings, ed. E. Hermens, London/Baarn, 1998: 12).
Technical art history embraces a holistic research approach, taking in all aspects of the art work: material, conceptual, contextual. This programme will give you a thorough introduction to this new research field and the different aspects of it. You do not need any background in science or conservation as the course is intended to provide you with the right tools to understand what science can deliver, what conservators can do, and what role you can play in this truly interdisciplinary field. This will equip you very well for working with collections, in a museum or gallery environment, or in a commercial atmosphere such as auction houses. It will also prepare you very well for a postgraduate education in painting conservation, or further postgraduate research.
The programme is led by staff from the Technical Art History Group, which is part of the Centre for Textile Conservation and Technical Art History, housed in newly refurbished laboratories in the University's Robertson Building.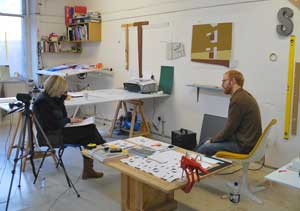 Student Rebecca Gordon conducting an interview with artist Toby Paterson
Links