Facilities
Facilities
Our facilities include a 140 seat cinema, a studio theatre and a large flexible-stage theatre seating over 200 spectators.
Andrew Stewart Cinema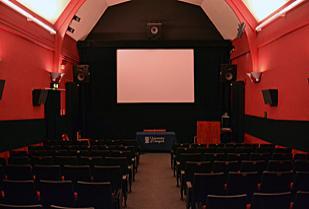 The Cinema is used for lectures and screenings. The following media can be projected:
35mm film
16mm film
Blu-ray
DVD
VHS
Mini DV
Computer data

Video Editing
‌We have 2 non-linear digital video edit suites installed in the building in recognition of the fact that TFTS have been developing a need for high-quality, digital editing facilities to be accessible on-demand by students, both undergraduate and postgraduate, working on Video Production Projects or on Multimedia Production and moving-image digitisation assignments of various kinds.
Suite number 1 consists of
Matrox RT.X100 with Adobe Production Studio Standard special bundle (includes Premiere Pro 2, Adobe Photoshop CS2, Adobe After Effects Standard 7)
3.20 Ghz 800FSB Intel Pentium® 4 "640" LGA 775 CPU HT 2MB Cache with Intel® EM64T
300GB Maxtor SATA hard drive
120GB Seagate EIDE 7200RPM UDMA hard drive
2 x 512MB DDR2 533 RAM
Gainward 256MB nvidia 6600 PCI Express graphic card
2 x 17" TFT Samtron black and silver SM74v monitor
Pioneer 110 Beige DVD Writer Dual layer 4 x +/-, Single layer DVD +/- 16 speed
Suite number 2 is an older Matrox RT2000 system with dual monitors running Adobe Premiere 6.0

Resources Room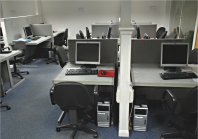 The Resources Room (RR) is an indispensable part of our teaching, learning and research environment. It provides a suitable environment, encouraging student users to take increased responsibility for their own learning while supporting them in the development of approaches to independent study and the acquisition of 'transferable' skills. It also provides a flexible infrastructure within which methods of teaching and assessment related to information technology can be introduced.
The RR consists of 19 fully networked PCs, 12 TV/VHS workstations with DVD and digital satellite viewing also available, and an extensive, fully computerised video library (VHS/DVD) of over 6000 items including feature films, television programmes, cinema shorts, recorded theatrical performances, extracts and documentaries relating to a wide range of cinema, broadcasting and theatre activity.