Freya Muir
Room 403 | School of Geographical and Earth Sciences
University of Glasgow | G12 8QQ
LinkedIn | Dynamic Coast | Google Scholar
https://orcid.org/https://orcid.org/0000-0003-4702-2963
Research title: Real-time monitoring and forecasting of coastal erosion
Research Summary
My ultimate research goal is to create a framework for predicting shoreline change in a range of coastal environments in response to short-term weather events. I hope to extract information about the coast and storm activity using automatic analysis of satellite and ground-based imagery, and weather and wave forecasts. These conditions will then feed into a numerical model of shoreline change, which will form the basis of a user-friendly, opensource software solution to predict a coastline's response to upcoming storms that can be run regularly at a range of spatial and temporal scales by coastal managers and stakeholders.
Supervisors
External supervisors
University of Glasgow
University of Stirling
JBA Consulting
Scottish Government/NatureScot
Dr Alistair Rennie
Grants
Natural Environment Research Council (NERC) IAPETUS Doctoral Training Partnership: 2020/21 Cohort
Conference
September 2021: CoastGIS (Poster) | Raseborg, Finland
March 2021: Edinburgh Women In Space Conference (10min) | Edinburgh (virtual)
September 2019: Institute of Civil Engineers: Coastal Management (20min) | La Rochelle, France
June 2019: MSc in GIS - GISUpdate Alumni Conference (20min) | Edinburgh, UK
May 2019: Young Coastal Scientists and Engineers Conference (20min + assisted with conference administration) | Glasgow, UK
April 2019: European Geosciences Union - General Assembly (12min) | Vienna, Austria
Teaching
June 2021: GEOG5117 - Modelling Water Environments | Demonstrator
March 2021: GEOG5025 - Topographic Modelling and Landscape Monitoring | Demonstrator
July 2020: I co-authored (with Eilidh Stott and Craig MacDonell) and and delivered a two-day workshop on an "Introduction to GIS" as part of the Geographical & Earth Sciences Summer School, aimed at prospective first year undergraduates. In the two workshops we presented the concepts of shoreline change in response to sea level rise, and socioeconomic vulnerability to erosion and climate change, set in the context of analyses undertaken on the Dynamic Coast project.
Additional Information
Prior to my doctoral research, I was the sole Research Assistant on the Dynamic Coast project, an award-winning pan-government partnership, whose aim is to establish an evidence base of national coastal change via the National Coastal Change Assessment (NCCA). Utilising a range of skills such as GIS, numerical modelling, field work, and journal article and adaptation & resilience report writing, my role was to conduct research on how Scotland's coast has changed over the last 130 years and predict how it may change in the future with response to climate change. The findings from this project continue to impact and support key partners at Montrose, St Andrews, Dumbarton, Golspie, and on Orkney and Tiree to make informed decisions about how they may best manage their coasts.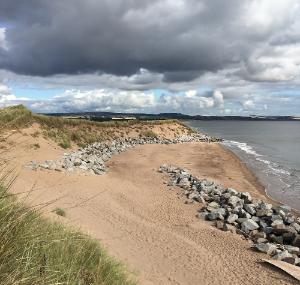 I completed my Masters degree in Geographical Information Science at the University of Edinburgh in 2018, excelling in courses on spatial modelling, data visualisation and storymapping, web mapping, remote sensing analysis and machine learning. My dissertation project "Simplistic hydrodynamic modelling and satellite imagery calibration: predicting landscape response to cyclonic precipitation in Southern Mexico" assessed the relationship between flood rasters produced by cyclonic precipitation fed into the hydrological model HAIL-CAESAR, and floodwater extent automatically extracted from Sentinel-2 imagery of the same cyclone event.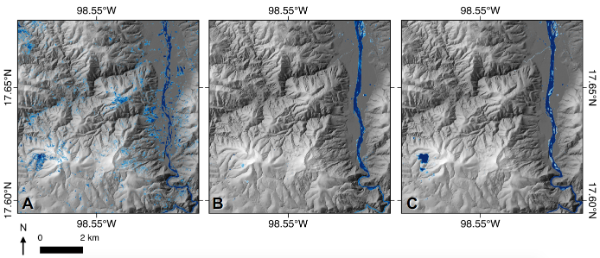 Prior to my Masters degree, I completed my Undergraduate degree in Geology & Physical Geography also at the University of Edinburgh. My dissertation project "Topographic analysis of earthquake-induced landsliding: A focus on Central Nepal" I evaluated the distribution and topographic characteristics of over 5,500 landslides that occurred as a result of the Gorkha 2015 earthquake that affected much of Nepal. In this three-part analysis, I identified channel steepness as a potential proxy for coseismic landslide occurrence across the Nepali Himalayas.