Ukrainians find peace from war on the Waterloo battlefield
Published: 7 July 2023
British veterans' charity Waterloo Uncovered adds its support to the Ukrainian war effort
After almost a decade of supporting injured veterans from around the world, Waterloo Uncovered is digging deep to support Ukraine with its life-changing veteran rehabilitation programme, in preparation for the aftermath of a war that still rages on.
Earlier this year, Waterloo Uncovered CEO Mark Evans met a group of injured Ukrainian veterans of the war with Russia at the residence of the British Ambassador to Belgium. Inspired by their efforts to raise awareness of the plight of their country and their fellow soldiers still fighting at the front, Mark vowed to use Waterloo Uncovered's groundbreaking Excavation Programme to help.
In July 2023, Waterloo Uncovered, whose Archaeological Director is the University of Glasgow's Professor Tony Pollard, is bringing an international contingent of veterans, serving personnel and military family members to the Waterloo battlefield for their annual archaeological excavation – and for the first time, their number will include Ukrainian veterans and family members.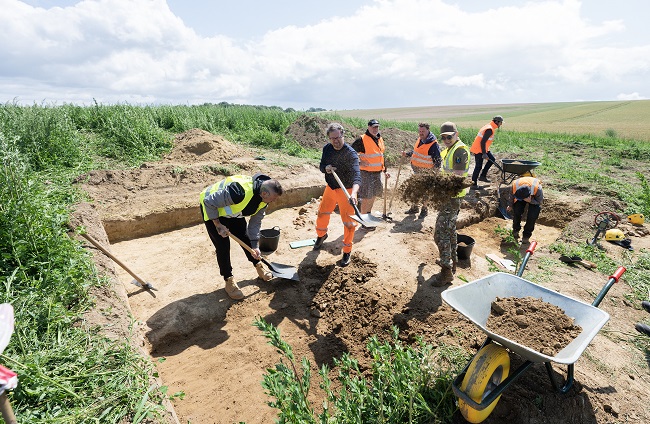 Since 2015, Waterloo Uncovered has brought veterans to the site of the Battle of Waterloo to conduct archaeological excavations with the support of world-class archaeologists and expert mental health professionals. To date, the charity has helped over 300 military personnel from the UK, Belgium, the Netherlands, Germany and the USA to find peace from war; using discovery on the site of a historic battle as a method of recovery from the traumas of modern warfare.
Waterloo Uncovered CEO and Coldstream Guards veteran Mark Evans said: "Since our inception, we've supported those who have served their country when they need us the most, no matter where they are from, and this summer we are delighted to welcome Ukrainians to our international team.
"The invasion of Ukraine has left tens of thousands of veterans and serving personnel suffering from the physical and mental injuries of war. In order to support them, we need to start considering what comes after the fighting, even while the conflict is still ongoing. In addition to vehicles and weapons, the UK needs to share the valuable lessons we have learnt about veteran recovery from recent wars in Afghanistan and Iraq with our friends in Ukraine."
Yana Brovdiy of Promote Ukraine said: "It's amazing to see British charity Waterloo Uncovered supporting the Ukrainian war effort by sharing their years of experience of veteran support. "By doing so, they're ensuring that when the war is won, Ukrainians who have fought and sadly been injured or traumatised will be able to take steps towards recovery."
Tim Loughton, Co-Chair of the All Party Parliamentary Archaeology Group, said: "I've seen the power of archaeology first hand and the impact it can have on mental health. This is something the British Government have been supporting for years, and we're so proud to see it being exported to Europe and our friends in the Ukraine," says "Waterloo Uncovered is an amazing example of health and wellbeing, veteran support and archaeology all coming together."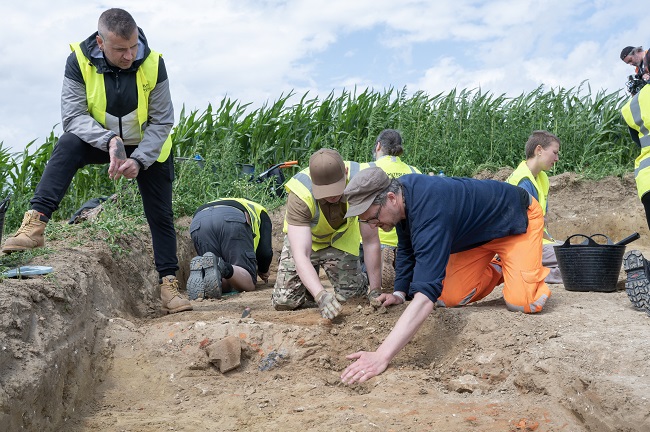 This summer, the charity returns to the world-famous Hougoumont Farm. Archaeological excavation will focus on a site beyond the south woods of the farm, where in 2022 the charity used cutting-edge geophysical technology to detect several fascinating anomalies.
Waterloo Uncovered Archaeological Director Professor Tony Pollard, the Professor of Conflict History and Archaeology at the University of Glasgow's Centre for War Studies and Conflict Archaeology, said: "This is going to be a really exciting excavation on an incredibly important corner of the battlefield.
"Wellington once declared that the success of the battle turned upon the closing of the gates at Hougoumont. Our work this year has the potential to draw attention to two unrecognised features on the battlefield for the first time. Although our past investigations have changed our understanding of the fight for Hougoumont, this year's excavation will fill important gaps in our knowledge of the battle and its aftermath."
Veterans will also work with archaeologists to solve the mystery of how the bodies of up to 20,000 Waterloo casualties remain undiscovered, building on the charity's research which suggests that bodies were exhumed, ground down, and turned into fertiliser, as well as being used in the sugar refining process. Archaeologists hope that one of the anomalies investigated this year - a quarry, which is known to have been open at the time of the battle and was filled in shortly after - may be able to provide some long-overdue answers.
---
Waterloo Uncovered's excavation will be held from 4 - 11 July. Waterloo Uncovered 2023 dig will be on site near Hougoumont Farm, Braine-l'Alleud in Belgium.
First published: 7 July 2023