New 'microwave' medical treatment shows promise for patients with HPV
Published: 18 May 2023
An innovative new medical device which uses microwave heating has shown promising potential for treating precancers and cancers caused by infection with human papillomavirus (HPV)
An innovative new medical device which uses microwave heating has shown promising potential for treating precancers and cancers caused by infection with human papillomavirus (HPV).
The results – led by the MRC-University of Glasgow Centre for Virus Research (CVR) and published in Lancet eBioMedicine – used 3D 'living skin' in laboratory models of HPV-infected tissues and found that microwave treatment resulted in precise, localised cell death in these tissues without damaging the surrounding areas.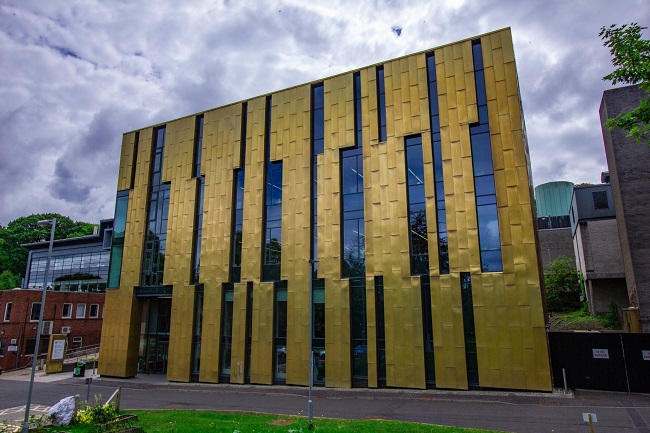 The study – which demonstrated cancer cell death induced by hyperthermia, - also showed that the treatment reversed molecular properties of precancer and cancer tissues, such that they then displayed growth and properties more similar to normal tissues.
HPV cases are highly prevalent worldwide, with greater than 1 million cases per annum. Current treatment for HPV-caused cervical precancerous lesions or genital warts can be painful and invasive. It is hoped that information on this potential new treatment will be shared with patients with HPV-associated disease in the near future.
The University of Glasgow's research team used technology from Scottish health tech innovator, Emblation. The Stirling-based company developed the Swift® device, which is already used in clinics across the globe to treat skin lesions - including warts and verrucae - linked to the HPV virus.
Professor Sheila Graham, from the University of Glasgow's MRC-Centre for Virus Research, said: "We are thrilled that our results demonstrate that this treatment could be a novel therapy for HPV-associated diseases.
"Current treatments can cause sustained bleeding or inflammation and diseased tissue can be missed, whereas heat treatment through microwaving could provide better tissue coverage and be more acceptable and better tolerated by patients than existing strategies. The mild nature of the procedure would mean that sequential treatments could be spaced more closely and could save NHS clinic time and resources."
Treatment of genital warts cost around £300 per case with around 200,000 patients per annum treated in the UK, with a total cost of around £60m.
Current treatment for cervical precancerous cells involves laser surgical removal of the diseased tissue; however, microwaving produces mild heat (less than 50 degrees Celsius) and is non-invasive.
In Scotland alone, in 27 colposcopy clinics in 2016, 13,536 new patients were seen, most of whom required treatment. This translates to around 150,000 cervical precancerous cells patients in the UK whose treatment could be improved by this new device.
Dr Matt Kidd, Director of Research and Development, at Emblation, said: "It is incredibly exciting to know that our device was used by the University of Glasgow team in leading edge research that delivered such promising early results. The full medical benefits from microwave treatment are still being unlocked and we aim to be part of that by doing anything we can to support important research like this."
The study, 'Microwave hyperthermia represses human papillomavirus oncoprotein activity and induces cell death due to cell stress in 3D tissue models of anogenital precancers and cancers,' is published in Lancet eBioMedicine. The work was funded by Innovate UK, the Chief Scientist Office and the MRC.
---
Enquiries: ali.howard@glasgow.ac.uk or elizabeth.mcmeekin@glasgow.ac.uk / 0141 330 6557 or 0141 330 4831
First published: 18 May 2023