Cycle-to-work project gets more office staff on their bikes
A ground-breaking project, developed to increase cycling to work amongst office staff, resulted in participants spending 150 minutes less time per week using their car, according to new published research.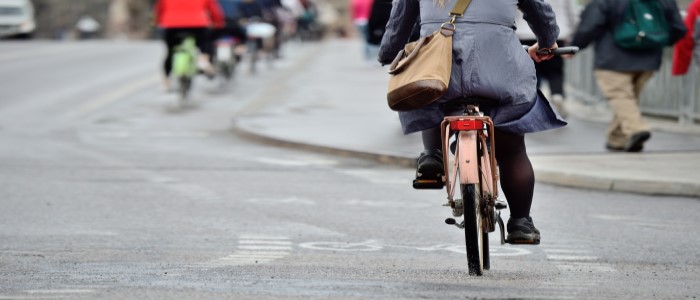 The details of the Cycle Nation Project (CNP) – led by the University of Glasgow in collaboration with British Cycling and HSBC UK and published today in Frontiers in Sports and Active Living – demonstrates a successful workplace-based intervention to increase bike use among office staff, with workers cycling three times more per week on average.
The project – led by Professor Jason Gill and Professor Cindy Gray from the University of Glasgow – and developed and tested with staff at the multinational bank HSBC UK, explored the barriers to cycling to work in a survey of UK adults.
The project follows Professor Jason Gill's 2017 BMJ study of over 263,000 workers, which found that cycling to work was associated with a more than 40% lower risk of developing heart disease and cancer. Cycling also has well-established physical and mental health benefits, including decreased risk of cardiovascular disease, type 2 diabetes, stroke, hypertension, and breast and colon cancer.
For this project, by undertaking extensive consultations with bank employees and managers, and by working in partnership with HSBC UK and British Cycling, the researchers identified individual, social and organisational-level barriers that needed to be overcome in order to get more office workers on their bikes.
The resultant pilot intervention for the Cycle Nation Project involved participants receiving a loan bike for 12 weeks (or their own bike serviced), and a nine-week cycle training course, which included interactive information sharing activities, behaviour change techniques (like weekly goal setting) bike maintenance training, practical off-road cycling skill games and on-road group rides.
Sessions were delivered by trained bank staff members who were experienced cyclists, and the CNP intervention was delivered across three sites with 68 participants.
Participants reported improved perceptions of safety, vitality, confidence and motivation to cycle.
Professor Jason Gill said: "We already know the benefits of cycling to work, which substantially lowers people's risk of adverse health outcomes. Initiatives like the Cycle Nation Project, which are designed to make it easier for people to commute by bike, present a major opportunity for public health and societal improvement."
Professor Cindy Gray said: "We are thrilled with the success of the Cycle Nation Project pilot and give our thanks to British Cycling and HSBC UK for their support and collaboration to make the project happen. Going forward, we would like to see the Cycle Nation Project adopted by other business and communities. The potential to increase cycling in the UK, and to realise the multiple individual and public health, economic and societal benefits associated with cycling is substantial."
The UK currently has low levels of cycling compared with 56 some other European countries. Nevertheless, there appears to be a latent demand for cycling, with surveys reporting that over half of UK adults would like to cycle more.
Rob Pickering, Regional Manager North West/ North East for British Cycling, said: "Giving people the opportunity to make cycling part of their everyday lives is crucially important as we move towards more sustainable forms of transport. Forming regular cycling habits can have so many benefits: better health and wellbeing, reducing carbon emissions and decreasing congestion on our roads.
"The study undertaken by the University of Glasgow in conjunction with HSBC UK and British Cycling shows what is possible in the workplace. Organisations can now adopt the practices and findings in this report with greater confidence, knowing that they will have direct benefits for their employees and their businesses as a whole."
Luke Harper, Head of Partnerships for HSBC UK said: "Building back from the pandemic is a pivotal moment to make cycling a sustained lifestyle choice, with employers playing an important role in helping their people choose cycling as part of their commute. From our colleagues voluntarily participating in this unprecedented project with the University of Glasgow to helping get two million more people on bikes, we're proud of the legacy our partnership with British Cycling has in the UK – helping fundamentally change the country's approach to cycling."
The study, 'Development and optimisation of a multi-component workplace intervention to increase cycling for the Cycle Nation Project,' is published in Frontiers and Sports and Active Living. The study was funded by British Cycling and HSBC UK.
---
Enquiries: ali.howard@glasgow.ac.uk or elizabeth.mcmeekin@glasgow.ac.uk / 0141 330 6557 or 0141 330 4831
First published: 26 October 2022