Study reveals high neurodegenerative risk among former international rugby players
A study led by the University of Glasgow has revealed the first major insights into lifelong health outcomes in former international rugby union players.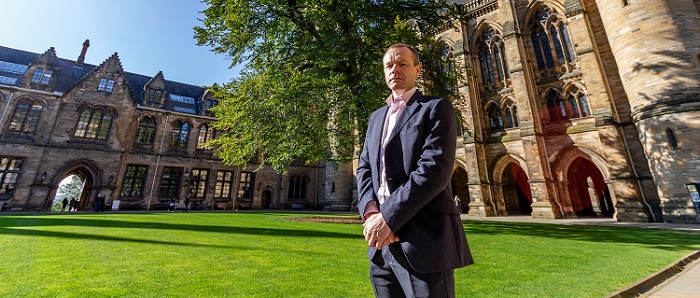 In findings published in the Journal of Neurology, Neurosurgery and Psychiatry, the researchers found that former international rugby players had an approximately two and a half times higher risk of neurodegenerative disease than expected, with risk of disease varying by subtype, but not by player position.
Led by consultant neuropathologist Prof Willie Stewart, Honorary Professor at the University of Glasgow, the research team compared health outcomes among 412 male, Scottish, former international rugby players and over 1,200 matched individuals from the general population.
The results showed that while age at death was slightly higher among former rugby players, they were also at higher risk of a neurodegenerative disease diagnosis compared to their matched controls. This risk varied by disease subtype ranging from around a doubling of risk of a dementia diagnosis, to an over 10-fold risk of motor neuron disease diagnosis.
In their previous findings from the landmark FIELD study, which was funded by The Football Association and The Professional Footballers Association, the research team reported the first data on neurodegenerative risk among former professional footballers. The current study is a continuation of this ground-breaking research into brain health outcomes among former contact sports athletes, and represents the largest study to date looking in this detail at neurodegenerative disease risk among former rugby players.
Prof Willie Stewart said: "This latest work under our FIELD program of research demonstrates that risk of neurodegenerative disease is not isolated to former footballers, but also a concern for former rugby players.
"As such, this study provides further insight into the association between contact sports and neurodegenerative disease risk. Of particular concern are the data on motor neuron disease risk among our rugby players, which is even higher than that for former professional footballers. This finding requires immediate research attention to explore the specific association between rugby and the devastating condition of motor neuron disease."
The study also found that, although rugby union players had a higher risk of death overall from neurodegenerative disease, they were less likely to die of respiratory disease. And while deaths in former rugby players were lower than expected up to age 70, they was no difference to matched population controls over that age.
Dr Emma Russell, researcher at the University of Glasgow and first author on the study, said: "An important aspect of this work has been the ability to look across a range of health outcomes in former professional rugby players, allowing us to build a clear picture of health in this population.
"Our data show that, in contrast to our previous findings in former professional football players, rugby players do not appear to benefit from a reduced risk of death due to cardiovascular disease or cancer, suggesting the possibility of sport-specific influences on lifelong health."
The study used national electronic health records on death certificates, data on hospitalisation and dispensed prescribing for dementia and causes of death in Scottish former international rugby union players. Players included were all aged 30 years or over at the end of 2020. The final cohort for analysis comprised 412 former international rugby players and a comparison group of 1,236 matched members of the general population.
In parallel work, also led by Professor Stewart, a specific pathology linked to brain injury exposure, known as chronic traumatic encephalopathy (CTE), has been described in a high proportion of the brains of former contact sport athletes, including former rugby players.
Professor Stewart said: "Taking these new results in rugby, together with our pathology work and previous FIELD studies in football, the risk exposure of concern must remain repetitive head impacts and head injuries. As such, precautionary approaches should be adopted to reduce unnecessary head impacts and better manage head injuries across all contact sports."
The paper 'Neurodegenerative disease risk among former international rugby union players.' is published in Journal of Neurology, Neurosurgery and Psychiatry, and also includes funding from The US National Institutes of Neurological Disorders and Stroke and NHS Research Scotland.
---
Enquiries: ali.howard@glasgow.ac.uk or elizabeth.mcmeekin@glasgow.ac.uk / 0141 330 6557 or 0141 330 4831
First published: 4 October 2022