Bones of men and horses bring home the horrors of war at Waterloo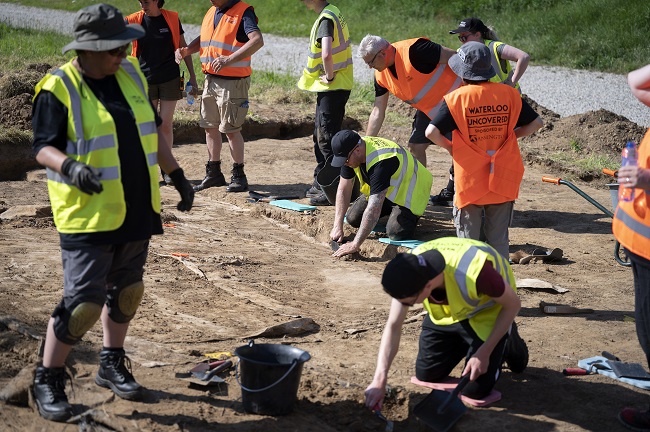 A team of world-class archaeologists, students and veterans on the battlefield of Waterloo have discovered a rare complete skeleton of a soldier from the battle 200 years ago.
As many as 20,000 men fell on a single day in June 1815 in the epic battle near Brussels in Belgium that forever ended Napoleon's dreams of empire. And yet for two centuries a mystery has endured about what happened to their remains.
Now the team from Waterloo Uncovered – the charity that helps today's veterans and military personnel recover from injury and the impacts of their service – has made a significant find on the site of Wellington's field hospital at Mont-Saint-Jean.
The charity has been excavating at Waterloo since 2015, and in that time has added a huge amount to our understanding of this cataclysmic battle involving men from many European nations.
Returning to excavate on the battlefield for the first time since the pandemic, Waterloo Uncovered have found significant new evidence of the suffering and endurance involved. Working at the site of the Allied field hospital at the farm of Mont-Saint-Jean, the team is carefully excavating the intact skeleton of a soldier, lying amid ammunition boxes, medical waste and the bones of legs and arms, amputated by surgeons in their struggle to save the wounded.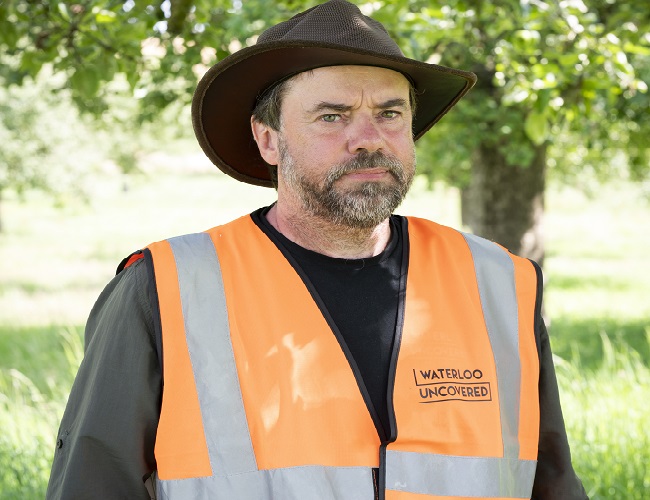 Professor Tony Pollard, one of Waterloo Uncovered's Archaeological Directors and Director of the Centre for Battlefield Archaeology at the University of Glasgow, said: "I've been a battlefield archaeologist for 20 years and have never seen anything like it. We won't get any closer to the harsh reality of Waterloo than this."
Rod Eldridge, one of the project's Lead Welfare Officers and a veteran, added: "Finding human remains can invoke a range of strong emotions, from excitement at their discovery to understandable sadness and reverence, as this is likely to be a soldier, just as those excavating it with Waterloo Uncovered are. There are strong feelings amongst the team that the bones must be treated with respect and dignity at all times."
Whilst the battle itself was bloody and brutal, the attitude to the dead on both sides seems callous in the light of modern attitudes.
Many Waterloo dead are thought to have been burnt on pyres, while others were shipped to the UK as part of a gruesome trade in fertiliser made from human bones.
In addition, many bodies were likely piled into mass graves that have not yet been discovered, in order to clear the battlefield of the thousands of bodies that littered it. Waterloo Uncovered is exploring this possibility in 2022 with the first ever large-scale geophysical survey of the Waterloo battlefield.
Led by PhD candidate Duncan Williams, the survey will identify anomalies in the landscape – potentially indicating mass graves, large collections of metal or lost structures - which will be explored by the team.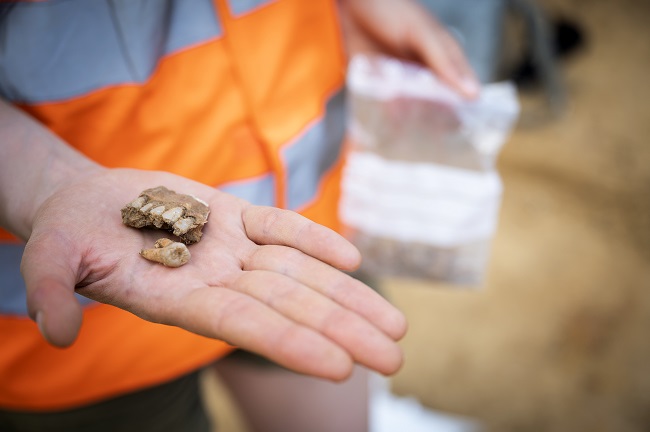 The skeleton found at Mont-Saint-Jean was uncovered in what was likely a roadside ditch beside the farmhouse. In 2019, the charity discovered amputated limbs in the same ditch, not far from the field hospital where an estimated 500 amputations took place, and limbs were said to have "piled up in the corners of the courtyard".
Véronique Moulaert from AWaP, one of the project's partners, explained the grim picture painted by the proximity of amputated limbs and an articulated body, said: "Finding a skeleton in the same trench as ammunition boxes and amputated limbs shows the state of emergency the field hospital would have been in during the battle - dead soldiers, amputated limbs and more would have had to be swept into nearby ditches and quickly buried in a desperate attempt to contain the spread of disease around the hospital."
The dig has uncovered other, poignant evidence of the scale of suffering resulting from a Napoleonic battle, in the form of a number of horse bones. It's estimated that several thousand horses were also killed during the battle, as the glittering glory of the cavalry charge ended in death for all too many.
What makes the Waterloo Uncovered project even more unique is the fact that veterans and serving military personnel (VSMP), many of whom have experienced physical or mental injuries as a result of their service, form an integral part of the team. The charity uses archaeology as a tool to help service personnel find peace from the traumas of war, and in turn, VSMP offer a useful military perspective on the discoveries the charity unearths.
This year there are 20 VSMP joining the project; 11 from the UK, 5 from the Netherlands, 3 from Germany and 1 from Belgium.
Kieran Oliver, a Coldstream Guard veteran, was deployed to Afghanistan just days after his 18th birthday, and was later diagnosed with complex PTSD. He is one of the veterans who have joined the team on excavation this year.
Talking about the impact of the trip so far, he said: "It's crazy how I haven't been myself for many years and now I'm starting to come out and enjoy myself. I've been smiling most of the time and I haven't smiled in a long time. […] It's incredible, and what you gain from it as a person, like me coming out of my shell, helps with people's mental health. It's been proven, which is why [Waterloo Uncovered] keep coming out and doing it again and again."
Ashely Gordon, a 1st Rifles veteran who has also accompanied the team shares a similar experience to Kieron and adds, "Five days after my 18th birthday, I was deployed to Iraq. I returned back, and very shortly after I experienced a lot of problems with PTSD. […] I've enjoyed the intricate trowelling. You're so focused that you don't think about absolutely anything else, just what you're doing in that moment, which I find really therapeutic."
The team will continue its excavations until Friday 15 July 2022, and is sure to make some groundbreaking discoveries about the events that took place at these important battlefield sites.
Waterloo Uncovered is an archaeology project involving military veterans and serving personnel who have been injured or are suffering from mental health issues as a result of their service. Working in partnership with some of Europe's top universities, and through the unique perspective of a team comprised of archaeologists, veterans, and serving soldiers, Waterloo Uncovered aims to understand war and its impact on people - and to educate the public about it. Visit www.waterloouncovered.com to learn more.
---
First published: 13 July 2022