Scottish primary school children help co-create new virus app
A new app, designed to help children understand more about respiratory viruses,
has been co-created by staff from the University of Glasgow, The Glasgow School of Art and local primary school pupils in Glasgow.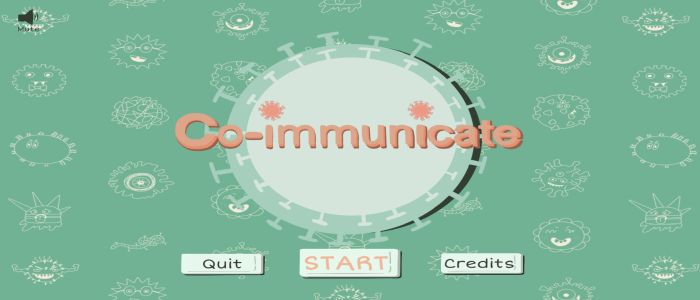 The timely Co-Immunicate app is designed to teach children how their immune cells protect against respiratory viruses, providing information in a fun and stimulating way.
The app is part of a larger Co-Immunicate collaborative project, funded by a ScotPEN-Wellcome Public Engagement award. This project has enabled the researchers, school teachers and pupils to work as a team to help local communities understand more about respiratory viruses and how our immune cells defend us against them.
Aimed at pupils aged 5-11 years, the app uses augmented reality, quizzes and a fun game in an interactive learning experience that mirrors the research conducted at the University of Glasgow.
This research – from scientists at UofG's Institute of Infection, Immunity and Inflammation (III) – seeks to understand how respiratory infections change the cells that make up the respiratory tract, and the immune cells that move into the lung to protect it from a future attack.
To co-create the app, scientists at UofG's IIIs collaborated with colleagues in the School of Simulation and Visualisation at The Glasgow School of Art, as well as local pupils and teachers at Anderston Primary in Glasgow, who provided hands-on content and testing evaluation.
The app was designed and created by The Glasgow School of Art's Dr Matthieu Poyade and Orla McCorry and the pupils in the 2020-21 P6/7 class at Anderston primary. The pupils provided drawings that have been used to illustrate what happens after a respiratory virus infection and to help explain what viruses are.
The pupils also provided voice overs for the app to help increase accessibility and helped the developers 'road test' the app, giving lots of feedback to the team on how to make it even better.
The app is being presented at the Glasgow Science Festival on June 7 and 8 and is available on the Apple App store.
Dr Megan Macleod, Senior Lecturer at III, said: "We wanted to create a fun and informative tool to help the pupils and the broader community understand what happens after a respiratory virus infection.
"So far the app has helped us engage and inform each year of new pupils at Anderston primary, to attract people when we deliver activities at the Glasgow Science Festival, and share our project with people across the globe."
Dr Matthieu Poyade, Research Fellow at the School of Simulation and Visualisation at the Glasgow School of Art, said: "It was really exiting being able to engage pupils in the design of the app. With this approach we expect to be able to make immunology more accessible to kids, using augmented reality on widely available mobile devices"
Elizabeth Hendry, head teacher at Anderston Primary School, Glasgow, said: "This project has been particularly relevant under the current circumstances and it has been an excellent opportunity for the children to be part of this; learning about viruses and vaccines from Scientists at the University. It has definitely inspired many of our young people."
---
Enquiries: ali.howard@glasgow.ac.uk or elizabeth.mcmeekin@glasgow.ac.uk / 0141 330 6557 or 0141 330 4831
First published: 8 June 2022