Cancer Research UK makes £123m commitment to world-leading Scottish science
Published: 20 September 2023
Cancer Research UK has announced its largest ever investment in Scotland of up to £123m, for the CRUK Scotland Institute (formerly known as the Cancer Research UK Beatson Institute)
Cancer Research UK has announced its largest ever investment in Scotland of up to £123m, for the CRUK Scotland Institute (formerly known as the Cancer Research UK Beatson Institute).  
The Institute, which is facilitated in partnership with the University of Glasgow at its Garscube campus, will receive the funding as part of a seven-year commitment from CRUK. The funding award follows a comprehensive review of the Institute led by an independent panel of international cancer experts.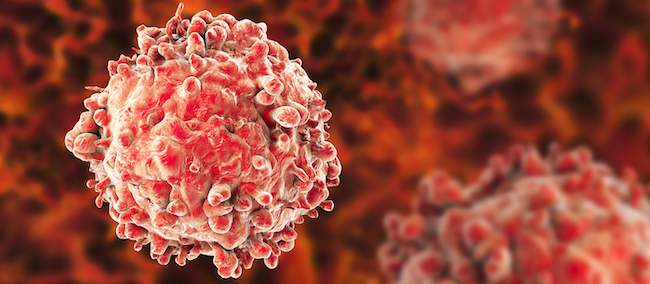 Research work carried out at the CRUK Scotland Institute is key to the global search for new and improved cancer treatments. The Institute has a number of key focuses including the search for strategies to detect, prevent, and treat both liver and pancreatic cancer.
The major new funding will bolster Scotland as a global hub for cancer research on an increasingly competitive worldwide stage, and help the recruitment of international talent. In recognition of the success of the Institute as a national centre of excellence, and to enable wider global recognition, the facility - formerly known as the Beatson Institute - will have the new title of the Cancer Research UK Scotland Institute.  
World-leading experts at the Institute study the very roots of how cancer begins, the genetics of cancer and how the immune system responds to the disease with the aim of finding new ways to screen for cancer and to create potential new therapies. Another key area of expertise at the Cancer Research UK Scotland Institute is the use of imaging in cancer – this can both help detect and diagnose cancer but can also be crucial in monitoring how effective treatment is, allowing changes to be made to ensure each patient has the best possible outcome.    
 
Professor Owen Sansom, who leads the Institute based within the University of Glasgow, hailed the news as "an unprecedented vote of confidence in Scotland's scientific prowess". 
 
Each year around 34,100 people are diagnosed with cancer in Scotland meaning it is vital to find new ways to tackle the disease. While around 16,300 Scots sadly lose their lives to the disease each year, cancer death rates have fallen by 8 percent over the past decade - largely thanks to research.

There are around 300 researchers based at the Cancer Research UK Scotland Institute split across 30 research groups studying a range of cancer and technologies to support improved cancer treatments. There are also 100 support staff.  The funding will underpin long-term cutting-edge discovery research exploring how cancers develop, grow and spread, as well as examining how the immune system can be harnessed to combat the disease.  

Major studies into specific types of cancer which have a big impact on Scotland's population including liver, pancreatic, bowel and lung, will also be supported.  
 
Professor Owen Sansom, Director of the Cancer Research UK Scotland Institute, said: "This recognition of the hard work and determination of our researchers to find new ways to tackle cancer, as well as improve current treatments, is major boost for both future cancer patients in Scotland and for the newly titled Cancer Research UK Scotland Institute. It represents an unprecedented vote of confidence in Scotland's scientific prowess.   
 
"Our world-class teams are focusing on a wide range of research from investigating the very roots of how cancer begins, to finding new less invasive ways of screening and testing for the disease, as well as innovative ways to use imaging technology to monitor the progress of cancers and the effectiveness of treatment to ensure better outcomes for everyone."  
 
Cancer Research UK invests around £33m in Scotland each year, including the Cancer Research UK Scotland Institute and grants awarded to research groups at universities across Scotland. 
 
The charity also funds Experimental Cancer Medicine Centres (ECMCs) in Glasgow and Edinburgh which are part of a network of 17 ECMCs across the UK delivering clinical trials of new experimental treatments in patients in conjunction with local NHS facilities. Since 2007, when the network was first established, around 30,000 patients have taken part in 2,100 clinical trials. 
 
Cancer Research UK chief executive Michelle Mitchell said: "With a long heritage of success in finding new ways to tackle cancer in Scotland, the Institute is very much a national centre of excellence and will be key to us achieving our ultimate goal of beating cancer sooner. 
 
"Its researchers represent some of the best scientists from around the world who have come together to work towards better outcomes for patients today and in the future. 
 
"This investment reflects our confidence that Scotland can go even further in becoming a major competitor on an increasingly competitive worldwide cancer research stage as we aim for a 'golden era' of life sciences. 
 
"None of this would be possible without the hard work and dedication of those who donate and fundraise for Cancer Research UK in Scotland and across the UK." 
Professor Sir Anton Muscatelli, Principal and Vice-Chancellor of the University of Glasgow, said: "This announcement is fantastic news for Scotland, for cancer patients and for our researchers. That an Independent Panel of international cancer experts recognised the significant strengths of this Institute embedded within the University of Glasgow is testament to the groundbreaking, innovative and collaborative approach taken by our scientists.

"We continue to work in partnership with Cancer Research UK to ensure that the Institute and the University attract world-class scientists to Glasgow. We are excited to be working with our partners across the country, bringing together the strengths we have in cancer sciences and the wider life sciences in Scotland, to develop novel approaches to care and treatments."
 
Scotland Health Secretary Michael Matheson said: "The Scottish Government recognises that research is essential if new approaches to the prevention, diagnosis and treatment of cancer are to continue being developed.

"We welcome Cancer Research UK's announcement of renewed funding for the Cancer Research UK Scotland Institute, which demonstrates its success as a national centre of excellence.

"It is testimony to the excellence and innovation that the Institute delivers, and this funding will help ensure it continues its internationally recognised research work."

A recent study published by researchers at the Institute used an innovative blend of traditional and newer mass spectrometry technology combined with imaging to pinpoint an enzyme called adenosylhomocysteinase (AHCY) which appears to be key to the growth of bowel cancer. Mass spectrometry is a way of analysing chemicals in the human body.

When the team suppressed this enzyme, they saw that cancer growth slowed down. They hope that AHCY could prove a target for new treatments which could help stop or even prevent the growth of bowel cancer in the future.

Lead researcher, Cancer Research UK Scotland Institute Director, Professor Owen Sansom, added: "This exciting research offers us a new opportunity to exploit a weakness in bowel cancer with the hope that we can find new treatments which target this weakness and improve the outcomes for people with bowel cancer."
---
Enquiries: ali.howard@glasgow.ac.uk or elizabeth.mcmeekin@glasgow.ac.uk / 0141 330 6557 or 0141 330 4831
First published: 20 September 2023