A new mini album launched by the Distant Voices project
Published: 19 February 2021
A new 5-track album from the Distant Voices project, which brings together celebrated Scottish songwriters and people with experience of the criminal justice system.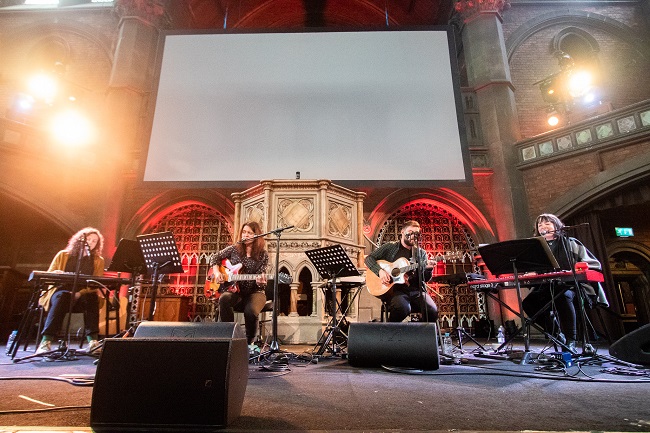 Looking at Colours Again, a new EP from the Distant Voices project, which brings together celebrated Scottish songwriters and people with experience of the criminal justice system is launched today.
Featuring five compelling, genrespanning tracks, the EP was produced by Distant Voices Artistic Lead, Louis Abbott (Admiral Fallow), with Paul Savage (Mogwai, Franz Ferdinand) at Chem19 studios.

The tracks were co-written by musicians Donna Maciocia, Ross Clark (Fiskur), Jo Mango & Louis Abbott with participants in workshops in communities and prisons across Scotland. The evolution of the songs involved continued collaboration, from the initial songwriting, into discussions around arrangements, and on to participation in the recording process itself.

Looking at Colours Again EP seeks to bring these stories to a wider audience, in order to challenge conventional understandings of 'offender rehabilitation' and to offer a better understanding of the ways people are received when they 'come home' after punishment.
---
Distant Voices
Distant Voices is a project that explores crime, punishment and reintegration through song-writing and other forms of creative expression.
The project pairs some of Scotland's best songwriters with people who've experienced the criminal justice system from lots of different angles. This has included people in prison, social workers, probation officers, prison officers and governors, as well as those affected by an experience of crime, or participants in communities and families who receive people coming home.

Through the project, hundreds of songs have been written which tell the stories of those coming, or contemplating coming home after a sentence, highlighting the human experiences and emotions we all share.

Distant Voices brings these stories to a wider audience through performing, recording and releasing the songs, recognising the power of music to connect us and to spark (sometimes complicated) conversations.

And it also tries to capture the learning that comes out of this process of creating and sharing. We hope this learning will help to make positive changes in the Criminal Justice System.

The project began as a collaboration between Vox Liminis and the Scottish Centre for Crime and Justice Research (led by Professor Fergus McNeill at the University of Glasgow), and has extended to now include the Universities of Edinburgh and the West of Scotland.
Distant Voices is funded by the Economic and Social Research Council and the Arts and Humanities Research Council
Vox Liminis
Vox Liminis is an arts and community organisation working with people involved with the criminal justice system – prisoners, former prisoners, and people on community sentences; families; practitioners; and the wider public.
The organisation aims to spark fresh conversations and insights that enable positive change in how we deal with crime, punishment and reintegration together.
Vox Liminis facilitate songwriting projects in prison and community justice settings with staff and those serving sentences, make art with a collective of young people who have had a family member in prison, lead family music workshops in prisons to support family relationships, and build an on-going community of interest with the diverse group of people involved in all of these activities.
As well as making art and, through it, community, the organisation also shares the creative work in public and professional settings, provoking conversations and giving pointers to ways that we might imagine things anew.
Underpinning Vox Liminis' approach is a belief that the rehabilitation of people back into society after they have committed offences requires both systemic and social change.
The organisation is working towards cultural change through cultural means in criminal justice - a site of our society's most intractable and complex social problems.
First published: 19 February 2021