Great honour for UofG Arts Burns expert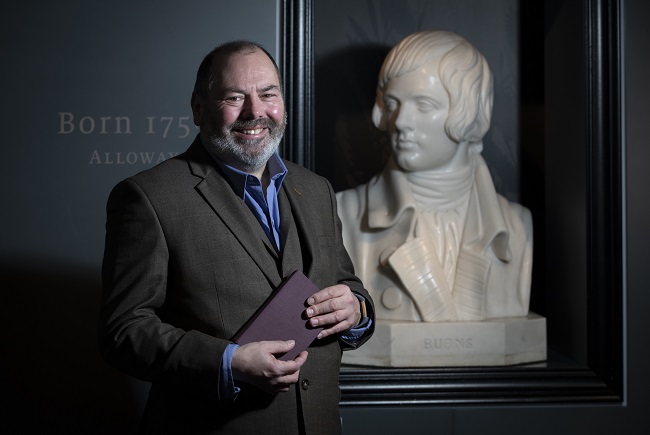 A College of Arts acdemic and a leading expert in Robert Burns has been awarded a unique honour by the global Burnsian community.
Professor Gerry Carruthers, Francis Hutcheson Professor of Scottish Literature and the Co-Director of the Univerity of Glasgow's Centre for Robert Burns Studies, has been recognised as the first Fellow of the World Burns Federation.
In front of a large audience at the Colin Rae Brown bicentenary dinner in Greenock Town Hall on Saturday 13 November 2021, Professor Carruthers was given the honour for his "distinguished contribution to Robert Burns Scholarship".
The Federation has made it clear that the fellowship will be granted only very occasionally and in exceptional circumstances.
Professor Carruthers, who is based at the School of Critical Studies, said: "I am deeply touched by this fellowship which is also the result of efforts by all of the Burns team at Glasgow over more than 15 years.
"In multiple projects, the Centre for Robert Burns Studies at the University of Glasgow has worked consistently in collaboration with the international Burns movement and its thousands of members.
"This partnership and knowledge exchange has been highly important in our production of world class research on Scotland's national poet, an author who is also indisputably a world writer."
---
First published: 30 November 2021