New campaign aims to empower teens with lifesaving lessons
A new campaign is setting out to help young people recognise the five early warning signs of a condition which causes 11 million deaths around the world each year.

Biomedical engineers from the University of Glasgow have teamed up with the charity Sepsis Research FEAT (Fiona Elizabeth Agnew Trust) to develop an activity pack which aims to help high school pupils better understand the causes and symptoms of sepsis.

The free SEPS_IS pack, launched today, provides teachers with a suite of activities designed to spur pupil discussion about sepsis, which occurs when the human body overreacts to an infection and damages its own vital organs in the process of fighting back.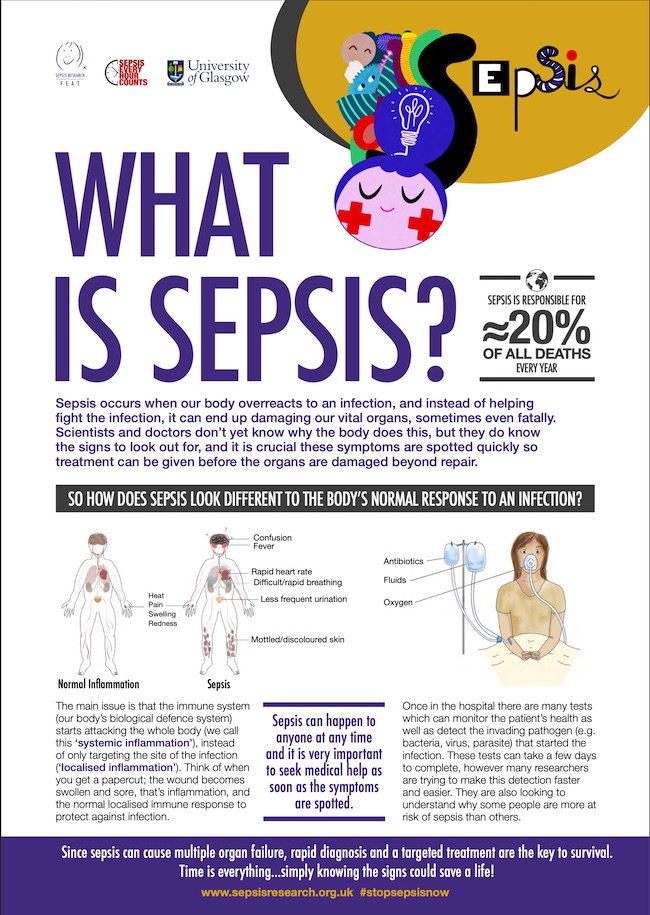 The activities in the SEPS_IS pack will help pupils recognise the five symptoms of sepsis, which can be fatal if not quickly treated. Those symptoms are: unusually high or low temperatures, uncontrolled shivering, confusion, reduced urine production and blotchy limbs.

The packs include a six-page booklet containing advice on the basics of sepsis aimed at teachers, and guidance on how to spend classroom time developing pupils' understanding of the condition. A separate 11-page resource pack written for pupils includes further information on how sepsis begins and spreads, and how it can be diagnosed and treated.

Schools which receive the resource pack will be eligible to have teams of pupils take part in a competition to design an eye-catching informational poster outlining what they have learned . One entry, selected by an interdisciplinary team of judges, will be used as part of Sepsis Research FEAT's marketing campaign during Sepsis Awareness Week in September.

Dr Melanie Jimenez, of the University's James Watt School of Engineering, came up with the idea of a sepsis education campaign for schools last year. She partnered with Sepsis Research FEAT, the UK's only sepsis research charity, to develop the SEPS_IS packs in consultation with teachers.

Dr Jimenez, a research fellow in bioengineering, specialises in developing new forms of medical diagnostics using microfluidics. She has a particular interest in developing better methods of quickly and effectively diagnosing sepsis, where swift treatment is key to better outcomes for patients.

Dr Jimenez said: "More than half of the nearly 50 million sepsis cases each year occur in children. It's important that young people are able to recognise the signs in their siblings and their schoolmates, as well as their friends and family. Helping to get them medical attention quickly if they develop sepsis could save their lives.

"Sepsis Research FEAT do great work in funding sepsis research and exploring new treatments. It's been fantastic to work so closely with them on putting together the SEPS_IS packs. I think that together we've developed a really engaging activity which will have a lasting impact on the young people who take part, and I'm excited to see what they come up with in their competition entries."

Colin Graham, Chief Operating Officer of Sepsis Research FEAT, added: "The COVID-19 pandemic has given us a sobering reminder of the dangers of infection. Sepsis is responsible for one in five deaths around the world every year, and we at Sepsis Research FEAT are committed to doing everything we can to fund new research and find new treatments to make it less deadly.

"We hope that the SEPS_IS campaign will not just help young people recognise the signs of sepsis, but also inspire future medics and researchers get involved in fighting the condition more effectively."

Further information on SEPS_IS and the activity pack is available on the Sepsis Research FEAT website.
---
First published: 26 April 2021