Glasgow gains three prestigious UKRI Future Leaders Fellowship awards
Published: 15 October 2020
The University of Glasgow has been awarded three prestigious UKRI-funded Future Leaders Fellowship awards, for work on COVID-19 and in cancer sciences.
The University of Glasgow has been awarded three prestigious UKRI-funded Future Leaders Fellowship awards, for work on COVID-19 and in cancer sciences.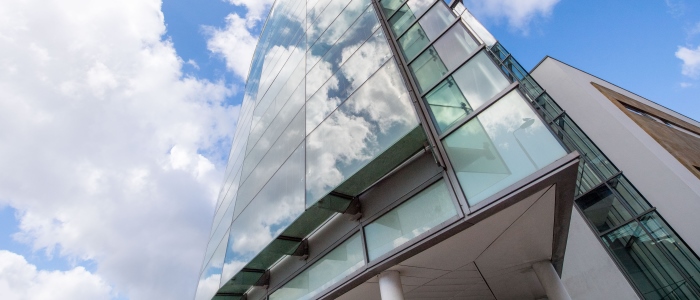 The awards, which have been made to Dr David Bryant and Dr Joanna Birch from the Institute of Cancer Sciences, as well as Dr Adam Fletcher, who will be joining the University of Glasgow-MRC Centre for Virus Research in the coming months, to begin working on COVID-19 research. Together they received £3.4m funding from UK Research and Innovation (UKRI).
Future Leaders Fellowships is a £900 million fund designed to help to establish the careers of world-class research and innovation leaders across UK business and academia. The scheme supports early career researchers and innovators with outstanding potential in universities, UK registered businesses, and other research and user environments including research councils' institutes and laboratories.
The support, which is funded for four years, will enable each fellow to tackle ambitious and challenging research and innovation and develop their own careers.
Dr David Bryant has been awarded £1.2m to undertake new research into colorectal carcinoma, beginning the OrgTIP project which will look at how inhibiting Phosphoinositide-modifying enzymes (PIP-MEs) could help to combat the disease. PIP-MEs are a family of genes that are commonly altered in many cancers, but particularly in bowel cancer. In bowel cancer, the PIP-MEs become uncontrolled to the extent they no longer work, or work when they shouldn't. The OrgTIP project will look at how to target the altered PIP-MEs without damaging normal cells.
Dr Bryant will also work with a biotechnology industry company partner to provide tools for the entire research community to develop new ways to combat cancer.
Dr Bryant said: "Bowel carcinoma is the 4th most common cancer in the UK, accounting for 1 out of 10 deaths from any type of cancer. While 6 out of 10 patients will respond well to current therapies, the rest will not respond to treatment. These non-responding patients have a very poor outlook and we therefore urgently need to develop new therapies to treat these patients. We hope targeting PIP-MEs may provide a new viable treatment option that may help those patients. "
Dr Joanna Birch has been awarded just under £1m to undertake research into cancer therapeutics that can be used alongside radiotherapy to maximise treatment effectiveness and efficiency. Radiotherapy is used for a number of cancers, and while it is undoubtedly a highly effective and potentially curative treatment, it can induce unwanted behaviour in cancer cells that remain following therapy. One such behaviour is the induction of increased invasive potential, allowing cancers cells to spread and metastasise into normal tissue thus contributing to treatment resistance and recurrence. This unwanted effect can potentially be targeted to further increase the efficiency of radiotherapy.
Dr Birch's project aims to identify new therapeutic avenues that can be used alongside radiotherapy to contain metastatic spread in three cancers: glioblastoma, colorectal cancer and pancreatic cancer.
Dr Birch said: "These cancers currently have poor outcomes and innovative therapies are urgently required to improve symptom control and survival rates. The work of this fellowship will further our understanding of the processes that drive invasion and metastasis in these cancers, and ultimately identify novel anti-invasive therapies to improve patient outcomes in the future."
Dr Adam Fletcher has been awarded £1.2m. He studies host-virus interplay and a key regulatory of the human anti-viral response, the ubiquitin system. In this fellowship he will look at how the ubiquitin system is moulded by viruses, including pandemic flu viruses and coronaviruses such as SARS-CoV-2.
Viruses infect us by expertly re-wiring our cells – often doing this by manipulating the ubiquitin system. Some viruses, like the coronavirus SARS-CoV-2, even encode their own ubiquitin system enzymes to subvert host cell physiology. The hope is this work could inform new and much-needed kinds of antiviral therapy to treat these viruses.
Dr Fletcher said: "In this fellowship, I'm excited to assimilate my understanding of host-virus interplay and ubiquitin biochemistry into the CVR's holistic view of virology. By understanding how ubiquitin landscapes are moulded by viruses – including pandemic influenza viruses and coronaviruses – we will uncover a blueprint for how viruses exploit us and how our cells retaliate. This could inform different kinds of antiviral therapy, sorely needed as viral epidemics become a new reality."
A total of 101 research and innovation leaders, based at UK universities and businesses, were announced as recipients of Future Leader Fellowships today, Thursday 15 October.
Announcing the successful fellows at today's Future Leaders Conference, Science Minister Amanda Solloway said: "We are committed to building back better through research and innovation, and supporting our science superstars in every corner of the UK.
"By backing these inspirational Future Leaders Fellows, we will ensure that their brilliant ideas can be transferred straight from the lab into vital everyday products and services that will help to change all our lives for the better."
UK Research and Innovation Chief Executive, Professor Dame Ottoline Leyser, said: "Future Leaders Fellowships provide researchers and innovators with freedom and support to drive forward transformative new ideas and the opportunity to learn from peers right across the country.
"The fellows announced today illustrate how the UK continues to support and attract talented researchers and innovators across every discipline to our universities and businesses, with the potential to deliver change that can be felt across society and the economy."
---
Enquiries: ali.howard@glasgow.ac.uk or elizabeth.mcmeekin@glasgow.ac.uk / 0141 330 6557 or 0141 330 4831
First published: 15 October 2020