UofG Great War Project commemoration ends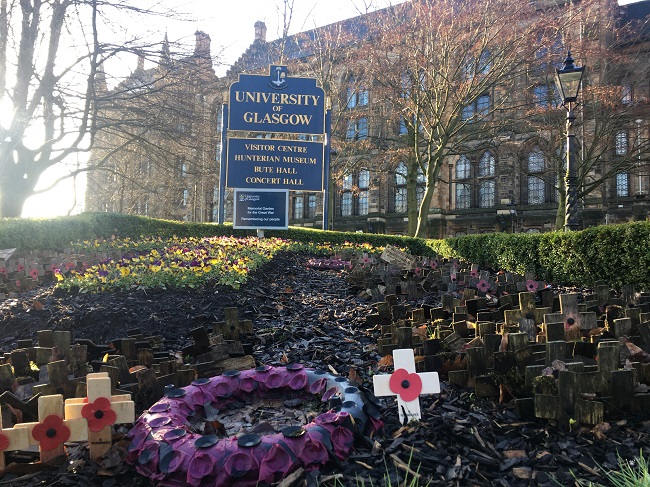 The University of Glasgow's Great War Project to remember every member of its community to lose their lives officially ended today with its last commemoration service.
Douglas Hamilton Wilson from Lesmahagow, Lanarkshire, an alumnus of the University, died aged 36 in a London nursing home on 3 March 1920 after a distinguished service in the First World War.
After the morning service in the University, Mr Wilson's biography was read on the centenary of his death, and a small poppy cross was placed in the memorial garden while a minute's silence was held in Douglas' memory.
Mr Wilson is the last of the 781 staff, students and alumni including one woman, who are remembered on the memorial panels which line the walls of the chapel and whose deaths were marked on the centenary of each of their deaths by the University with a service and a cross placed in our memorial garden.
The University WW1 project marked the death of every member of the University community who died in the war regardless of which side they fought on.
The University project officially launched on the 25 September 2014, with the first war death of the university community - Captain Harry Sherwood Ranken, who was the first Glasgow-born recipient of the Victoria Cross, who was posthumously awarded the commendation after he died from his wounds.
The University of Glasgow sacrificed a significant proportion of its membership to the Great War - over 4500 served in the First World War and 781 lost their lives.
The Commonwealth War Graves Commission honours the 1.7 million men and women of the Commonwealth forces who died in the First and Second World Wars, and ensures they will never be forgotten.
It only commemorates those who have died during the designated war years, while in Commonwealth military service or of causes attributable to service. Death in service included not only those killed in combat but other causes such as those that died in training accidents, air raids and due to disease such as the 1918 flu pandemic. The applicable periods for the First World War are 4 August 1914 to 31 August 1921.
---
First published: 3 March 2020