BHF invests £3m in UofG heart research
Published: 5 March 2019
The new funding is part of £34m across 12 universities to bolster world-class, UK-led heart disease research
The British Heart Foundation (BHF) has announced a Research Excellence Award of £3million of new funding to further the University of Glasgow's world-leading heart disease research.
The award, which will provide funding for the next five years and is aimed at empowering researchers to undertake innovative science, break down boundaries and spark new collaborations in heart and circulatory disease research, is part of £34million funding across 12 UK universities to bolster world-class, UK-led heart and circulatory disease research.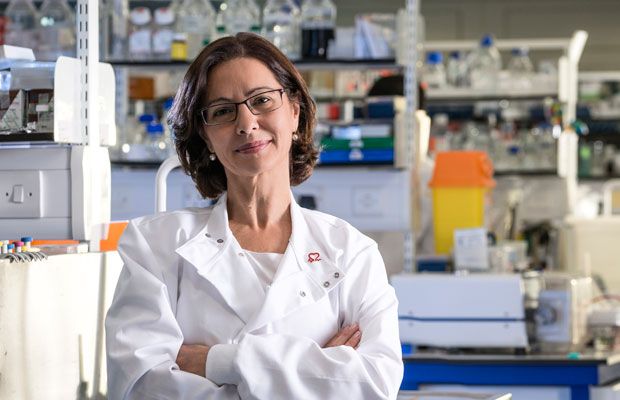 The BHF have awarded £6m in Scotland, made up of two Research Excellence Awards worth £3milion each for the Universities of Glasgow and Edinburgh.
The £3m award will allow scientists at the University of Glasgow to explore how small blood vessels become damaged, inflamed and stiff and how this causes hypertension, stroke, dementia and heart disease. They will also use biomarkers, clinical trials and population science to understand, identify and treat heart failure.
Professor Rhian Touyz, Director of the Institute of Cardiovascular and Medical Sciences, who will lead on this project, said: "Our world-renowned researchers conduct clinically important science that improves cardiovascular health in the UK and beyond. This award will allow us to develop and implement more ambitious initiatives, advancing our knowledge and developing new approaches to diagnosis, prevention and treatment, as well as providing an outstanding environment for future leaders in cardiovascular science."
In addition to the funding for Glasgow and Edinburgh, Research Excellence Awards have been made to the Universities of Cambridge, Imperial College London, King's College London and Oxford. New Accelerator Awards have also been made to the Universities of Birmingham, Bristol, Leicester, Manchester, Queen Mary University of London and University College London. Each institution will use the funding to foster research excellence in different areas of heart and circulatory diseases.
At a time when the impact of Brexit on UK-based researchers remains unclear, the funding boost sends a clear message that the UK remains committed to supporting a world-leading research ecosystem. The award empowers universities to attract and nurture the very best talent and enables the agility needed to exploit new ideas and technologies.
Unlike traditional research grants, which award funding to a specific project, these flexible awards give the power of choice to researchers. The innovative funding model is particularly designed to allow researchers to launch higher risk research and to attract talent by offering start-up fellowships. This enables the most innovative, dynamic and inspirational research to rapidly get off the ground, without the need for new funding applications.
The awards also encourage experts from diverse fields to come together to tackle the biggest questions in heart and circulatory disease research. From biologists to engineers, clinicians to mathematicians: the varied perspectives and knowledge foster innovative, high-quality thinking. The awards will support diverse fields of research, including vascular medicine, population studies, genetics, drug discovery, regenerative medicine, and using artificial intelligence and machine learning techniques to develop personalised healthcare. They also provide a strong foundation to enable researchers to leverage additional funding.
Professor Sir Nilesh Samani, Medical Director of the British Heart Foundation said: "It usually takes more than a one-off project to answer the biggest questions in science. The flexible funding offered by these awards breaks down scientific barriers and injects creativity into the UK's heart and circulatory disease research community.
"Our investment through these awards will bring together the best and brightest minds across medicine, tech and engineering to foster collaboration and encourage innovative thinking.
"We are very proud to have made these awards, which are only possible through the continued generosity of the public who support us. The awards not only recognise the world-leading research already being carried out in heart and circulatory diseases in the UK, but also help to safeguard our future as a global scientific leader in this area."
---
Enquiries: ali.howard@glasgow.ac.uk or elizabeth.mcmeekin@glasgow.ac.uk / 0141 330 6557 or 0141 330 4831
First published: 5 March 2019
Related Links
Professor Rhian Touyz profile