UofG gin created in a distillery run by former Arts graduate
Published: 21 June 2019
The University of Glasgow has unveiled its own branded gin created by a former Arts student, it was announced today.
The University of Glasgow has unveiled its own branded gin created by a former Arts student, it was announced today.
Helen Stewart from Badvo Distillery near Pitlochry has worked with the University to create the exclusive branded version of her gin which is called 1451 – after the year the institution was founded.
It is being launched for the Summer Graduations 2019.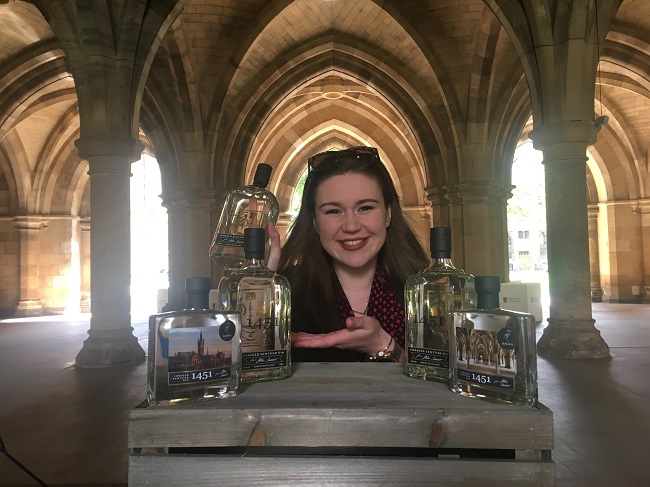 Ms Stewart, an English Literature and Linguistics graduate, created the new gin which has been distilled with 100% hand foraged botanicals from the Perthshire hill farm which has been in her family since 1599. The gin is predominantly sweet apple with a wild mint finish.
The farmer, forager and founder of Badvo Distillery, said: "I have been so lucky to have had great support from the University of Glasgow when I began setting up my business.
"I am delighted to now be back and working with the University to create a great Scottish gin for a great Scottish institution."
The Stewart family established Badvo Hill Farm on the 7 July 1599. The site of Helen's Badvo Gill Distillery was previously used for small batch distilling as detailed in a family handbook.
Matthew Williams, General Manager at University of Glasgow Retail, said: "We had first thought about creating our own whisky. But I came across Helen and learned about her story it felt right especially as Scottish Gin has seen such a resurgence in recent years. We are absolutely delighted to partner with Badvo to create 1451."
Introducing 1451 a new gin distilled for the University of Glasgow! @UofG_Alumni Helen Stewart created the gin from hand foraged botanicals from her family farm
1451 is available at graduation, @UofGShop & onlinehttps://t.co/7doLdE1ive#UofGgrad19 #UofGin pic.twitter.com/dBIdNh9ZBC

— University of Glasgow (@UofGlasgow) 21 June 2019
Helen spent two years designing the gin, gaining grant money, and converting the disused farm buildings before launching Badvo in 2018.
Helen said the support she received from her lecturers and Student Enterprise Hub at the University were invaluable on her entrepreneurial journey to set up her own distillery.
She added: "I love distilling and as long as I love distilling this is what I will be doing. I'd love to do more on the farm and I love being outside. I have a sweet life doing what I love."
Professor Sir Anton Muscatelli, Principal and Vice-Chancellor of the University of Glasgow said: "At the University of Glasgow, we recognise and celebrate the achievements of our alumni who have left us to work as leaders in their fields.
"We are delighted to see this product being create for the University by one of our former Arts students. I want to congratulate everyone involved in the creation of 1451."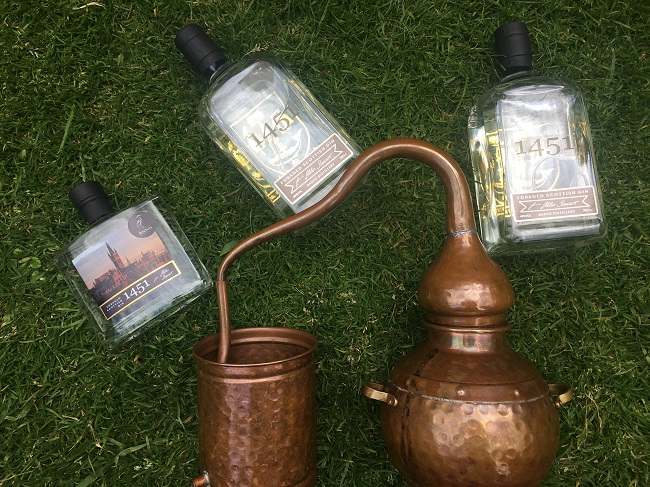 ---
For more information contact Aine Allardyce in the University of Glasgow Communications and Public Affairs Office on 0141 330 7126 or email aine.allardyce@glasgow.ac.uk
The new Badvo University of Glasgow Gin will be available at the University of Glasgow's 2019 Summer graduations. It now available online (for the UK and European Union) on Badvo's website - www.badvo.com It will also be available at the University of Glasgow's Gift Shop in Glasgow's West End later this year.
Sound Tracks is the fortnightly University of Glasgow careers podcast that is packed with sound advice University graduates to help keep today's students career journey on track. Helen Stewart recently took part in a live careers podcast to speak about her entrepreneurial journey. Listen in here.
First published: 21 June 2019