Canon Medical joins Clinical Innovation Zone
The University of Glasgow has welcomed new tenants, Canon Medical Research Europe Ltd, to the Clinical Innovation Zone (CIZ) at the Imaging Centre of Excellence (ICE) on the Queen Elizabeth University Hospital campus.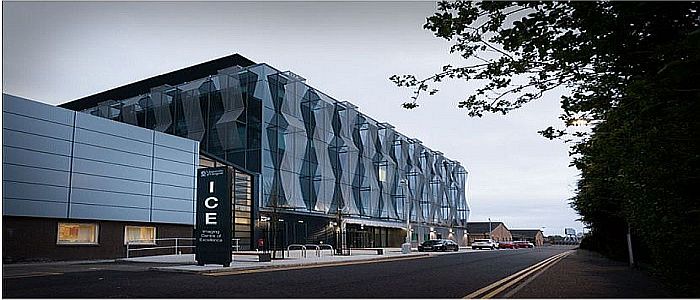 Canon Medical Research Europe Ltd is a world leader in creating software for analysis and visualisation of CT, MRI, US and XR images. The company opened their Glasgow office within the CIZ earlier this year to increase the opportunities for collaboration between Canon's engineers, clinical experts, scientists and academics. The move will also increase opportunity for collaboration with clinicians working within the CIZ and across the QEUH site as well as other industry partners of the University.
Dr Carol Clugston, the University's College of Medical, Veterinary and Life Sciences Chief Operating Officer, said: "We are delighted to welcome Canon Medical Research Europe Ltd to the University's Clinical Innovation Zone at QEUH.
"The strategic location of Canon Medical Research Europe Ltd within the CIZ adds to our thriving life sciences cluster, which fosters collaboration with academia, NHS and industry partners to drive innovation and accelerate the development of precision medicine for patient and economic benefit."
Dr Ken Sutherland, President of Canon Medical in Edinburgh said: "We're delighted to be taking space within the University's Clinical Innovation Zone. As a global company we're always looking to collaborate with world experts in relevant areas and we've formed a strong bond with the MVLS team in Glasgow which we believe will serve us both well in the future."

About Canon Medical

Canon Medical's European R&D Centre in Edinburgh was founded in 1995 by University of Edinburgh graduates. It was originally known as Voxar Ltd before being acquired by Toshiba in 2009 and renamed as Toshiba Medical Visualization Systems Europe (TMVS) Ltd.

In 2016, Canon acquired the Toshiba Medical business and TMVS became Canon Medical Research Europe. The R&D centre currently employs over 100 staff focused on the development of advanced image analysis and visualisation software for use in medical scanners. It is part of a global corporation, headquartered in Japan and employing 198,000 staff and generated revenue of £23.67bn in 2016.
---
Enquiries: ali.howard@glasgow.ac.uk or elizabeth.mcmeekin@glasgow.ac.uk / 0141 330 6557 or 0141 330 4831
First published: 17 May 2018