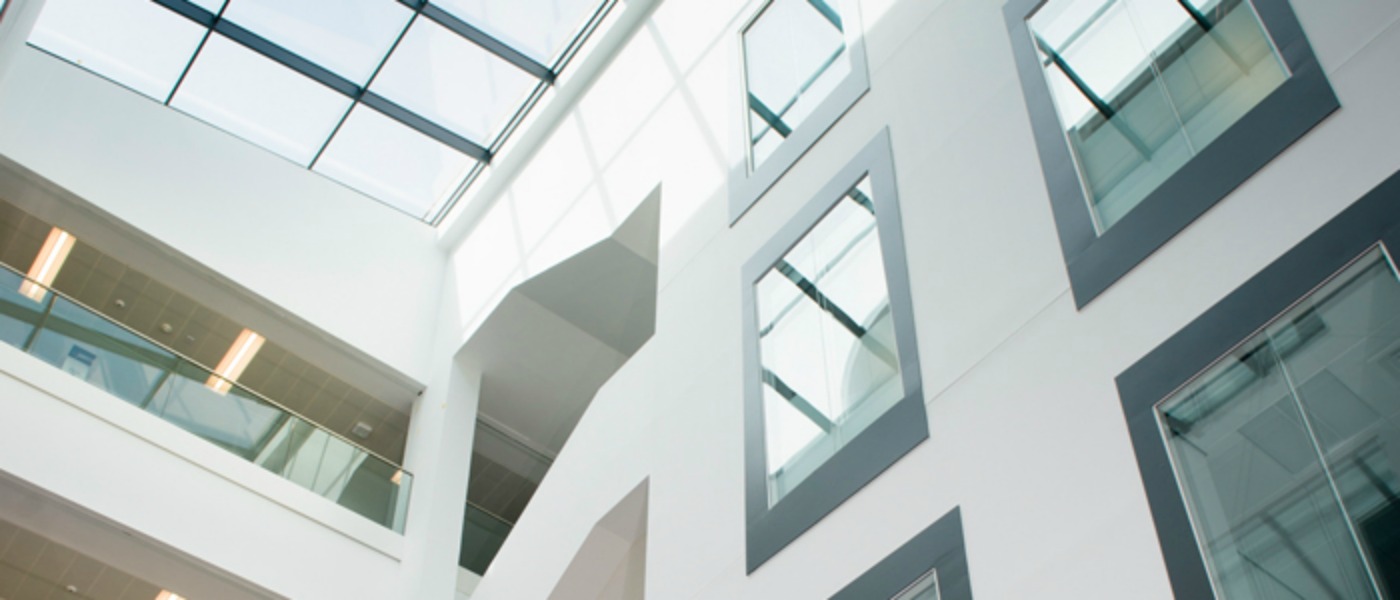 Discover more
Clinical Innovation Zone in the News
Located within the Queen Elizabeth University Hospital, the CIZ provides 22,000 square foot of high specification units designed to foster open innovation. The CIZ provides tenants with access to world-leading clinical academics, outstanding clinical research facilities, and industry partners.
The space and the potential is impressive.
Bio-incubators provide life science companies with facilities, access to shared services and support to for growth. With over 12 years' experience working with start-up companies in bio-incubators Jane Kennedy understands that the success of these facilities lies in the community you create. It's not just about the facilities, it's about the connections you enable and the networks you foster, enabling likeminded people to connect and collaborate.
A unique facility
The University's investments at the Queen Elizabeth University Hospital have established Glasgow as a world leader in precision medicine. Taking a multidisciplinary approach, the University has created spaces which bring together academia, industry and the NHS.
The CIZ is also home to the University's Imaging Centre of Excellence (ICE), which includes an ultra-high-resolution 7 Tesla MRI scanner – the first of its kind to be fully integrated within a clinical site in the UK. This is underpinned by world-leading clinical academic expertise in cardiovascular disease, stroke, and brain imaging.
A tour of the building shows the consideration that has gone into creating the space. Jane demonstrates how easily the units can be configured to accommodate office or laboratory operations. The 'touchdown space' with single and multiple desks provides a creative working environment designed to initiate and facilitate collaboration.
Whilst the design and layout shows a commitment to open innovation, Jane highlights how subtle additions, such as decorative decals to the glass and easy changes to the room layout, gives companies privacy and the ability to protect their valuable intellectual property.
Collaborative opportunities
With experience of working in both the Roslin BioCentre and BioCity Scotland Jane has a strong instinct on who will want to use this space. "This is such a unique investment opportunity for overseas companies. It provides them with the chance to co-locate with the NHS and the University, giving them access to academic and clinical expertise on site and to engage directly with both organisations."
The CIZ provides a space for large, multinationals to work alongside small, inventive companies to develop and test solutions. Academics and clinicians are now moving in to the space alongside Siemens Healthineers and discussions are taking place with Toshiba.
One of the Zone's most recent tenants is Causeway Therapeutics. A University of Glasgow spinout company developing a promising new treatment for tendon problems in humans and horses. The company recently received a £1m investment from Mediqventure and the Scottish Investment Bank, the investment arm of Scottish Enterprise. Causeway Therapeutics develops therapies for tendon injuries and disorders, collectively known as tendinopathies.
"Our decision to locate to CIZ was an easy one to make. Causeway is developing a therapy, TenoMiR, that will transform the treatment of tendon disease. TenoMiR's initial human trials will be carried out in the QEUH. The proximity CIZ to the hospital, our lab at the University of Glasgow and the ICE building's state of the art 7T MRI, is a perfect fit for TenoMiR's clinical development.

"An added incentive was that working alongside other life-science and drug development companies provides a great environment for collaboration and the exchange of ideas." Dr Derek Gilchrist, CEO, causeway Therapeutics.
The Clinical Innovation Zone
The Clinical Innovation Zone
22,000 square feet of high specification managed units in a modern and secure environment, designed to foster open innovation and benefitting from excellent natural light and inspiring views across Glasgow.
Units can be easily and rapidly configured to accommodate office or laboratory operations (up to category 2).
Single or multiple hot-desking spaces are available, designed to provide a creative working environment, whilst providing a base for initiating collaborations.
Home to the £20m Stratified Medicine Scotland Innovation Centre and Imaging Centre of Excellence (ICE), containing an ultra-high resolution 7 Tesla MRI scanner – the first of its kind to be fully integrated within a clinical site in the UK.
If you are interested in taking space in the Clinical Innovation Zone or you'd like to find out more then please contact mvls-innovation@glasgow.ac.uk.