WW1 Prisoner of War letters published 100 years after being written
Published: 5 April 2018
Seven months of correspondence, between Professor Archibald Allan Bowman and his wife Mabel, will be published by the University of Glasgow on the centenary of the day they were first written.
The letters speak of love, longing, worry and war.
A prisoner of war and his family writing to each other to ease the pain of separation during the First World War.
Now seven months of correspondence, between Professor Archibald Allan Bowman and his wife Mabel, will be published by the University of Glasgow on the centenary of the day they were first written.
The first letter will be published on social media today (5 April 2018). They are being released in instalments to show how it must have felt to anxiously wait for news of a loved one.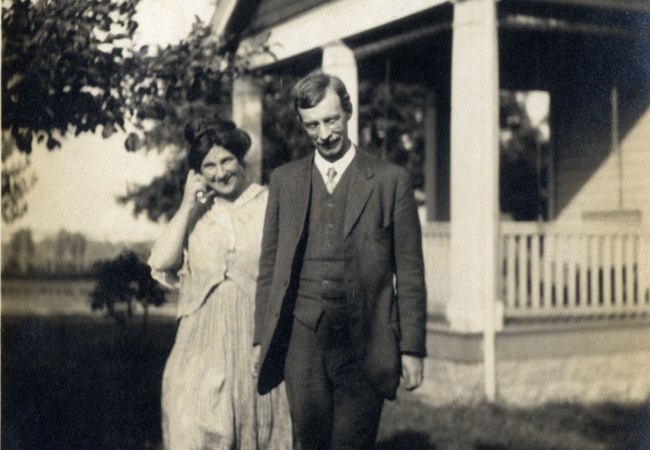 Photograph - Professor Archibald Allan Bowman and his wife Mabel
The letters were written between April 1918 and November 1918 and will be published for the first time in the order they were written.
During the war, with censorship in place, the couple would not have received the letters in order and in some cases there would have been a lag of a few weeks.
The University holds the full collection of documents from Professor Bowman, its Chair of Moral Philosophy (1926-1936), which give a rare insight into the professional and personal life of this remarkable man.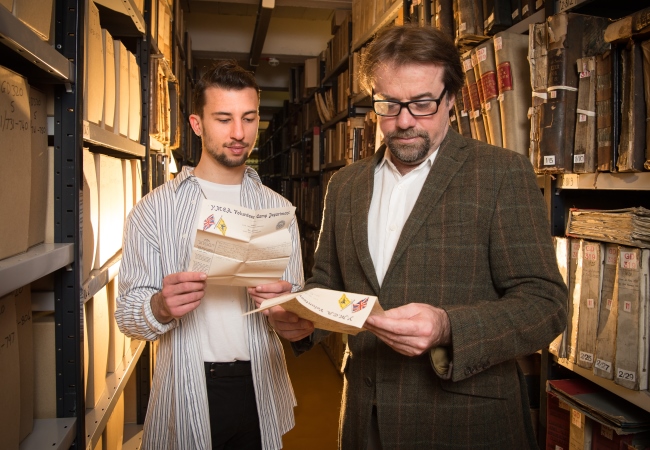 Photograph - Professor Tony Pollard and Petros Aronis in the UofG Archives reading some Bowman letters
Petros Aronis, a History of Art student from Athens, has curated the Bowman social media project on Instagram called Letters from A Prisoner of War 1918
He said: "There are beautiful and touching sentiments expressed in the letters. It also shows the vital role, those on the home front had in providing prisoners of war with food and provisions parcels to keep them feed and clothed in the camps.

"In this project, as well as putting them into chronological order, I also have tried to highlight how the letters were impacted by the war.
"For some of AA Bowman's letters the censors used black ink on top of the writing and in Mabel's case the censor cut out parts of her letters. It has been a wonderful experience retelling this internment story and using today's digital media to do it."
Professor Tony Pollard, Professor of Conflict History and Archaeology, said: "As a conflict historian, this is a remarkable insight into wartime Britain. They transport us back in time to see what ordinary people had to deal with both at home and on the front line during the First World War.
"This student research project also helps to bring a new understanding to the documents, showcasing the letters as historical objects which tell their own special story of war censorship.
"I am delighted to see these letters being published on social media to give a modern day context to this superb archive."
Some of the scheduled posts zoom in to highlight the texture of the paper; show how they were censored and in some case how they were damaged in their journey.
Written in both English and German, the letters paint a picture of life for the officers in captivity although many sections of the correspondence are blacked out by censors.
AA Bowman's speaks of his isolation from the outside world with no access to newspapers and how he was keeping himself busy by running classes to teach his fellow PoW including German lessons.
But from the home front, the letters give a fascinating insight into the day to day life of Mabel and their children in wartime Scotland and how difficult it was to access the vital provisions her husband needed.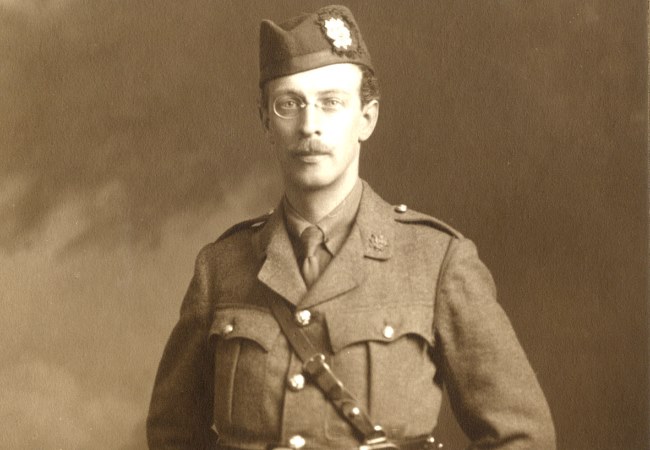 Photograph - Professor Archibald Allan Bowman in his First World War uniform
Bowman was born in Beith, Ayrshire. He married Mabel Stewart in 1912. The couple had three children who studied at the University of Glasgow, like their parents: Archibald (known as Ian), Mary (known as Maisie) and Alastair Bowman.
Bowman studied at the University of Glasgow between 1901 and 1905. Following graduation, he was appointed Assistant to the Professor of Logic at Glasgow and Lecturer in Logic at Queen Margaret College.
In 1912 the Bowmans moved to Princeton University where AA Bowman was the Chair of Logic. However, when the First World War broke out, he applied to Princeton and was granted leave of absence to join the British Army.
He joined the Highland Light Infantry in 1915 and was sent to France. He was taken prisoner at the Battle of Lys in April 1918 and was held prisoner until November 1918.
Whilst a prisoner of war he wrote Sonnets from a Prison Camp. Following repatriation A A Bowman returned to Princeton in September 1919. In 1926 he was appointed to the Chair of Moral Philosophy at Glasgow, a position he was to retain until his death on 12 June 1936, aged 53.
---
First published: 5 April 2018