Seal of approval - Scotland's most important medieval charters go on show
Published: 26 April 2017
For the first time precious examples from two of Scotland's most important collections of medieval charters have gone on show in National Records of Scotland.
Rare examples of some of Scotland's most important medieval charters and seals have gone on show in National Records of Scotland.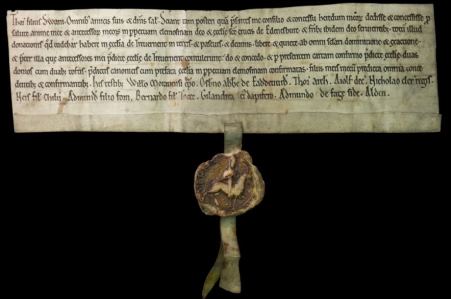 The charters from Holyrood Abbey and Melrose Abbey reveal how government developed between 1100AD and 1250AD, as part of the emergence in Western Europe of government as we recognise it today.
The charters offer a glimpse into the work of Scotland's medieval scribes, those who officially wrote and therefore documented legislation. The exhibition investigates how changes in the handwriting of the royal and monastic scribes documented the changes in charters that granted lands and rights.
'Scribes and Royal Authority: Scotland's Charters 1100-1250' is a partnership with the University of Glasgow and is part of Models of Authority, Scottish Charters and the Emergence of Government, 1100-1250, a project funded by the Arts and Humanities Research Council (AHRC).
The project examined the script and physical appearance of these charters, closely analysing the diplomatic and palaeographic features, as evidence in the development of the perception of royal authority and governance during a crucial period in Scotland's history.
Professor Dauvit Broun, professor Scottish History at the University of Glasgow, said: "This exhibition contains some of the earliest surviving documents produced in Scotland. These are well known to historians, but the scribes who wrote them are often overlooked. This exhibition is the first to focus on the scribes themselves, and their role in creating a new medium for government and lordship."
Due to the fragile nature and rarity of the parchment documents, special care has been taken in presenting them to the public. Over time documents can become more sensitive and fragile to environmental conditions, such as pollution, temperature, humidity and light. Exposure to light causes fading of dyes, inks and pigments which can contribute to the ageing of parchment and paper. To help protect the rare items a special light screen has been created and spread across the top of the Dome. National Records of Scotland conservators have also prepared the cases, positioned the documents and sealed the cabinets to help preserve the rare items.
The free exhibition will be on display in the Matheson Dome at National records of Scotland, General Register House, Edinburgh, until May 17, 2017.
---
Further information Jane Chilton, Communications Offcie. Tel: 0141 330 3535 / email Jane.Chilton@glasgow.ac.uk
First published: 26 April 2017