A Fireside Chat with Tim Cook, CEO of Apple
*** This event is now sold out ***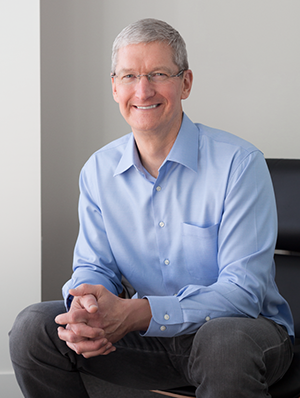 On Wednesday 8th February 2017, the University of Glasgow will honour Tim Cook, CEO of Apple, with an honorary degree. Following this there will be a 'Fireside Chat' and Q&A.
Tim Cook is the CEO of Apple. As CEO, he has led the introduction of innovative new products and services including iPhone 7 and iPhone 7 Plus, iPad Pro, and Apple Watch. He is leading a companywide effort to use 100 percent renewable energy at all Apple facilities, has encouraged his co-workers to give to charitable organisations in their community and started a generous program at Apple to match employee donations.
In 2015, he ranked #1 on Fortune's World's Greatest Leaders list, and received both the Ripple of Hope award from the Robert F. Kennedy Center for Justice & Human Rights and the Visibility Award from the Human Rights Campaign. Apple has ranked #1 on Fortune's World's Most Admired Companies for the past nine years, including each year Mr. Cook has been CEO. Before being named CEO in 2011, Mr. Cook was Apple's chief operating officer, responsible for all the company's worldwide sales and operations.
This event is open to staff and students of the University of Glasgow only. You must bring a printed copy of your ticket along with your student or staff card.
Date: Wednesday 8 February 2017
Venue: Bute Hall, University of Glasgow, G12 8QQ
Doors open: 5.30pm
Start: 6.00pm
End: 7.00pm
*** This event is now sold out ***

Book your place here. Please note that spaces are limited and allocated on a first-come-first-served basis.
---
Media enquiries: media@glasgow.ac.uk / 0141 330 3535
First published: 3 February 2017