Biomarker Centre of Excellence
The University of Glasgow has been named as one of Cancer Research UK's Centre for Drug Development (CDD) Biomarker Centres of Excellence.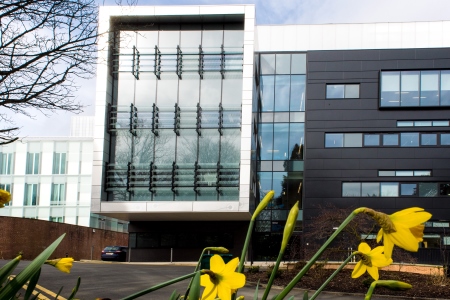 The Glasgow Experimental Cancer Medicine Centre (ECMC), a partnership between the University of Glasgow and NHS Greater Glasgow and Clyde, was chosen, along with only three others in the UK, by CDD for its "diverse array of technical and scientific expertise" in the field of cancer biomarker research.
The announcement includes further Cancer Research UK investment in the University, and will see our cancer researchers working in partnership with Cancer Research UK's CDD on translational biomarker research for early stage clinical trials.
As part of the announcement CRUK's CDD will fully fund one post doc and one research assistant at the Glasgow ECMC for at least 2 years.
Biomarkers play an important role to address the key scientific questions being asked from early phase trials, contribute towards the end outcome of the trial and are instrumental for trial decisions. They are also often a key discussion point at protocol and safety review board meetings and linked with clinical trial option agreements in place with Pharmaceutical partners.
Dr Fiona Thomson, Head of the Translational Pharmacology Laboratory/Senior Research Fellow (Experimental Therapeutics), Institute of Cancer Sciences, said: "I am delighted that the University of Glasgow has been selected as a 'Biomarker Centre of Excellence' by Cancer Research UK's Centre for Drug Development.
"The University is one of only 4 institutions selected by Cancer Research UK and we look forward to working in partnership to deliver translational biomarker research for Cancer Research UK's early phase cancer clinical studies.
"This investment allows the University to continue to excel in translational cancer research and bring much needed new treatments to cancer patients."
The CDD can have up to 25 early stage clinical trial projects at any one time. Currently biomarker assays for all CDD trials are performed across multiple labs in multiple sites to a range of quality standards, with different timelines, reporting structures and costs.
Dr Nigel Blackburn, Cancer Research UK's, director of drug development, said: "We look forward to working with the University of Glasgow to developing our new Centre of Excellence and supporting them to become leaders in the field.
"The sites we have chosen to become Centres have a wide variety of technical and scientific expertise, and are geographically spread across the UK to support our multi-centre trials. These Centres will create a more consistent, coherent, cost effective and pragmatic method of supporting assay development and clinical sample analysis.
"Ultimately this is about getting much needed new medicines to patients faster to help more people survive their cancer."
---
Enquiries: ali.howard@glasgow.ac.uk or elizabeth.mcmeekin@glasgow.ac.uk // 0141 330 6557 or 0141 330 4831
First published: 31 July 2017