Professor Mandy MacLean receives grant of over a million to continue her research
The British Heart Foundation (BHF) have awarded Professor Mandy MacLean, Professor of Pulmonary Pharmacology, a further five years of programme grant funding of over £1m to further her research into the role of sex and sex hormones in the development of pulmonary arterial hypertension (PAH).
This research is in collaboration with Prof Nick Morrell at the University of Cambridge and colleagues at Papworth Hospital.‌‌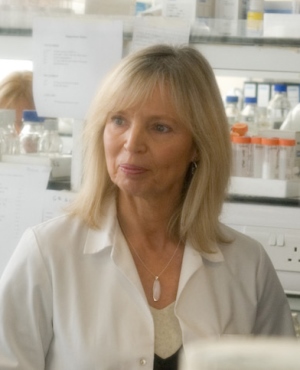 The grant will allow Professor MacLean to continue running her research lab at the Institute of Cardiovascular and Medical Sciences, which consists of five to six postdocs, five PhD students and two technicians, in their efforts to look at the pharmacology of the pulmonary circulation and right ventricle to identify new drugs for pulmonary arterial hypertension.
PAH is a rare, devastating disease with a very poor survival. There are several forms, including idiopathic PAH and heritable PAH associated with mutations in the BMPR2 gene. Pulmonary pressures can rise from the normal low level of 10-20mmHg (mean) to as high as 120mmHg, causing right ventricular failure and death.
The common theme of Professor MacLean's research at the moment is to understand why more women get PAH, whilst survival in male PAH patients is worse than in women. The work will further previous findings on the role of estrogens in the heart and in PAH.
With respect to looking at changes in estrogen metabolism in PAH, Professor MacLean and her team will also be collaborating with Professor Ruth Andrew at the University of Edinburgh, as well as Dr Colin Church from the Scottish Pulmonary Vascular Unit and Dr Corey Ventetuolo at Brown/Rhode Island Hospital, USA.
Professor MacLean and her team will be investigating potential new therapies for PAH in the coming years, and the new BHF programme will focus on examining sex differences in right ventricular function in PAH and investigating novel targets.
As a third of patients with PAH are obese, and obesity elevates estrogen levels, the team will also investigate how obesity influences the therapeutic response to estrogen-altering drugs such as aromatase inhibitors.
---
Media Enquiries: ali.howard@glasgow.ac.uk or elizabeth.mcmeekin@glasgow.ac.uk / 0141 330 6557 or 0141 330 4831
First published: 26 May 2016