Top French honour for University of Glasgow teacher
The outstanding teaching talents of a University of Glasgow academic have been officially recognised by France.‌
Dougal Campbell, who teaches French in the University of Glasgow's School of Modern Languages and Cultures, has been honoured with the title of Chevalier dans l'Ordre des Palmes Académiques. The award is in recognition of his services to French education and the promotion of French culture.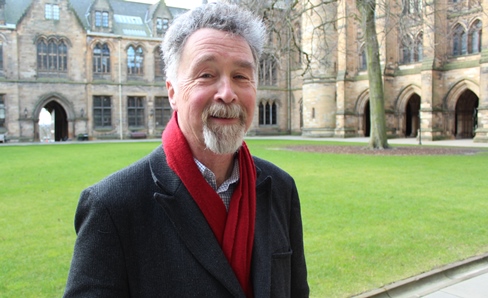 The prestigious honour acknowledges his merits, talents, and exemplary activities in teaching French.
There are three tiers to the awards, recipients start as a Knight, move up to being an Officer and the top level is Commander.
On hearing of his award, Mr Campbell, who is known among his colleagues for his humility, said: "I don't regard myself as an academic, I regard myself as a teacher, so I am more than enchanted to have got it because I feel I am not the normal kind of person to have been awarded this . I am very humbled by it, but also very proud. The notion that teaching is being valued is very important to me.
"Because I am officially a Knight, my colleagues have been having lots of fun with this, as have my family, saying 'how do we address you now' and 'where's your horse and your sword' and I am sure this ribbing is going to continue for some time."
Commenting on Mr Campbell's achievement, Roibeard O Maolalaigh , Head of the College of Arts at the University of Glasgow, said: "The College is delighted to hear of the great honour that has been bestowed on Dougal.
"It is dedicated teachers like Dougal who consistently inspire our excellent students with a love of their subject, providing them with the best possible learning experience and making the College the centre of excellence it is for teaching and learning in the arts and humanities."
The L'Ordre des Palmes Académiques award was first created by Napoleon I, and is the oldest non-military French decoration in France.
Mr Campbell will be presented with his honorary medal at a special ceremony in the next few months, recognising his services to teaching.
---
For futher information contact Jane Chilton, Communications and Public Affairs Office 0141 330 3535 / Jane.Chilton@glasgow.ac.uk
First published: 4 March 2016