SHARE announces its 100,000th volunteer
Published: 2 March 2016
A Scotland-wide effort to help shape the medicines of the future today announced its 100,000th volunteer.
A Scotland-wide effort to help shape the medicines of the future today announced its 100,000th volunteer. The SHARE (The Scottish Health Research Register) project is aimed at encouraging the public to allow any spare blood left over from routine sampling to be retained.
Launched in August 2015 at the Queen Elizabeth Teaching and Learning Centre in Glasgow by Robert Calderwood, Chief Executive of NHS Greater Glasgow and Clyde, and Professor Anna Dominiczak, Vice-Principal and Head of MVLS at the University of Glasgow, the initiative calls on people to sign up to a register which would mean any blood samples they provide to doctors, which would normally be disposed of after use, would be retained and used for research purposes.
SHARE aims to make it easier for researchers to identify suitable recruits from Scotland to carry out ground breaking medical research, and could help improve treatments for diseases such as Cancer, Diabetes, Alzheimer's and Asthma.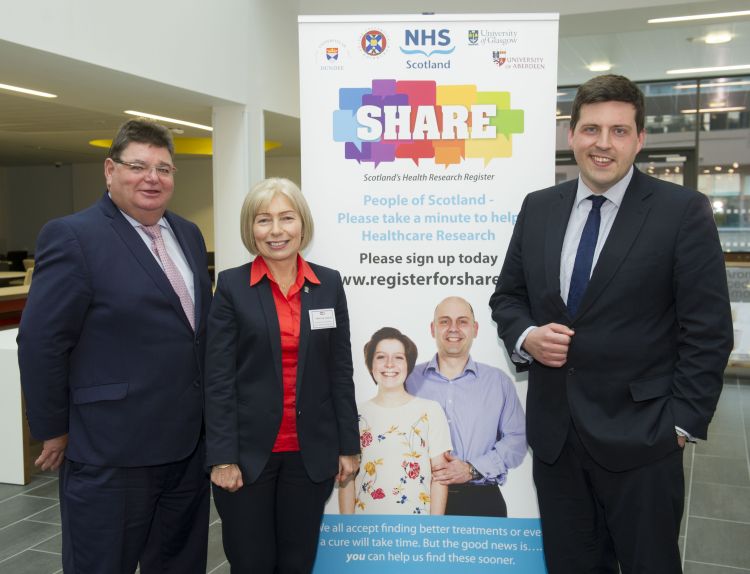 The goal is to advance the science of precision medicine, which aims to give the right treatment to the right patient at the right time at the right cost. Glasgow is an emerging global powerhouse of research into precision medicine, with massive investment in facilities and technologies at the University of Glasgow and the Queen Elizabeth University Hospital, Glasgow.
Lorraine Kelly, television presenter and former Rector of the University of Dundee, was the 100,000th volunteer to join the SHARE effort. Within Glasgow alone, SHARE has recruited nearly 10,000 volunteers.
Kirsten Cumming has been working on the recruitment in Glasgow for the last six months. Speaking about the reaction to the initiative, she said: "I find that the people of Glasgow are warm, friendly, enthusiastic and full of banter. When I explain about what SHARE is I find that most people's reaction, particularly about the spare blood part, is horror that such a valuable resource is just destroyed and not used for research.
"The phrase I hear most often is 'Well, if I can do something to help someone else, then I'm happy to.' They see the bigger picture that if we all do something small, like registering for SHARE, then the potential benefits to the rest of us are huge."
Professor Anna Dominiczak said: "Every day in Scotland around 7,000 samples of blood are discarded after use. If we could use these samples for research into a range of diseases, we could make precision medicine a reality sooner."
SHARE is pioneering an easy way for people to help the fight against disease. It only takes one minute to sign up to SHARE but the benefits may be felt for generations to come, say researchers.
SHARE, is the largest register of volunteers in the UK and the use of 'spare' blood in this way is a world first.
People can sign up at www.registerforshare.org or complete FREEPOST brochures that are widely distributed throughout Scotland including Clinics, GP surgeries and pharmacies.
Scots on the register have agreed to be informed about health research projects that they may be interested in taking part in. There is no obligation to take part in any specific study and it is up to the individual to choose whether or not to take part in any of these studies.
SHARE is a partnership between the NHS in Scotland, the Scottish Government and the Universities of Glasgow, Dundee, Edinburgh and Aberdeen.
---
Media Enquiries: ali.howard@glasgow.ac.uk or elizabeth.mcmeekin@glasgow.ac.uk / 0141 330 6557 or 0141 330 4831
First published: 2 March 2016