Nankai and Glasgow strengthen partnership links
The Universities of Nankai and Glasgow have strengthened their partnership links with the signing of two new agreements.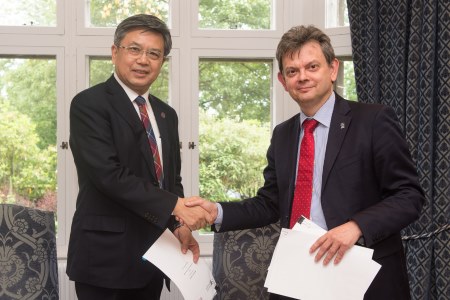 The President of Nankai University, Professor Gong Ke, and the Principal and Vice-Chancellor of the University of Glasgow, Professor Anton Muscatelli, have signed a Memorandum of Understanding to further develop academic collaboration between the two institutions. They also signed a Memorandum of Agreement to extend student mobility.
The two universities last year opened the first UK-Chinese joint graduate school on Chinese soil. Its first year has now been completed and next year enrolment numbers are expected to double – from 30 to 60.
Professor Gong Ke said that the Joint Graduate School had met expectations and it was hoped to expand the graduate programmes on offer.
In its first year, the Joint Graduate School has offered two-year postgraduate dual Masters qualifications, with the University of Glasgow and Nankai University each awarding a degree, in Environmental Management, International Relations and Urban and Regional Planning.
Professor Muscatelli said: "We're delighted to have renewed our student mobility agreement with Nankai. It's a partnership that's been going for a number of years now and we're very keen to keep it going. I know that students from both Nankai and Glasgow enjoy the opportunity to study at each other's universities."
Professor Gong Ke echoed these sentiments., saying: "I think student mobility is so important to broaden the vision of Nankai students, especially when they are living in such a global era."‌
Professor Gong Ke was one of a number of distinguished men and women to receive an honorary degree on Commemoration Day. He was made a Doctor of the University (DUniv)and said he was very proud to receive the degree not only in a personal capacity but also on behalf of Nankai University.‌
---
Media enquiries: liz.buie@glasgow.ac.uk / 0141 330 2702
First published: 16 June 2016