Celebrating the life and work of Adrian Howells
Friends and colleagues at the University of Glasgow will hold a celebration evening tomorrow (June 18) to mark the life and work of the late contemporary performance artist Adrian Howells, who died two years ago.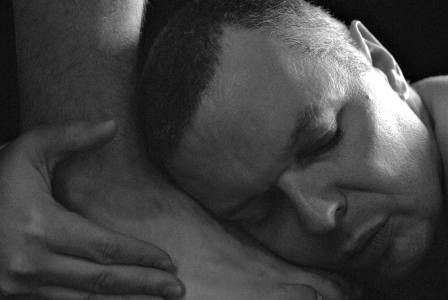 ‌
Adrian Howells was a pioneering live artist, a theatrical performer and leader in the field of one-to-one performance art. He was also an AHRC Fellow at the University of Glasgow for three years, during which time he performed some of his most creative work.
Adrian Howells liked to invite his audience to physically participate in his work, pushing the bounds of one-to-one performance. He preferred to work closely with his audience in a quiet, contemplative space - often a bedroom, a bathroom, garden area or intimate theatre space - where he used his body to hold and cradle his audience while opening up and talking about his often very personal life experiences.
In latter years, his creative performance moved from focussing on his own life to that of his audience, by physically engaging with them through touch and close contact, sometimes he would soothe them through bathing and washing them, to evoke a sense of trust and calmness enabling his audience to feel a connection and be confident to share their own personal experiences.
A personal tribute to Adrian Howells
Professor Dee Heddon, Professor of Contemporary Performance at the University of Glasgow, who was a colleague and also a personal friend of Adrian Howells, has organised the evening to remember the creativity and uniqueness of the man and his work.
Professor Heddon said: "He really was a beautiful and exceptionally creative person who left his mark not only on the university but on each and every one of us.
"He would decsribe himself as an intimate artist, exploring how can you use the space of performance practice to develop meaningful relationships with strangers. We might see performance as a place of fakery and pretense, but Adrian was trying to resist that by framing a performance where really genuine interaction could happen, and meaningful interaction at that."
Adrian Howells suffered from a lifetime of depression, a subject he openly shared with his audience during his many live performances. He took his own life at the age of 51 in 2014.
Tomorrow evening's celelbration of his life and work is called 'It's All Allowed: The Performances of Adrian Howells', taking its name from one of Adrian's earlier performances. The evening, which is free and open to the general public, will pay testimony to Adrian's achievements and legacy. Friends, peers and colleagues, will serve up an evening of memories, anecdotes, reflections, photos and films.

Tickets are available by booking online through Eventbrite.
---
Further information, Jane Chilton, Media and Communications Office. Tel: 0141 330 3535 / email: jane.chilton@glasgow.ac.uk
First published: 17 June 2016