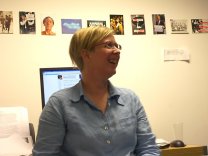 R331 Level 3, TFTV Studies, Gilmorehill Halls, Glasgow G12 8QQ
Professor Deirdre Heddon
Professor of Contemporary Performance (Theatre, Film and Television Studies)
Dean of the Scottish Graduate School for the Arts & Humanities (Arts Administration)
*Dee is on research leave this academic year*
‌Research Interests
Following my doctoral study on Feminism and Live Art, I have continued to focus on contemporary performance and theatre practices, broadly conceived (Devising Performance: A Critical History, Palgrave Macmillan 2005). For a number of years, my primary interest was on the use of autobiography in performance (Autobiography and Performance, Palgrave Macmillan 2008). Through exploring performances which brought together site and autobiography, I have increasingly turned my attention to relationships between performance and the environment, and have more recently written about the use of walking in performance practice, specifically in women's art. However, my interest in live art as a form continues (with the recent publication of a co-edited collection, Histories and Practices of Live Art, Palgrave Macmillan 2012).
My research emerges through a variety of media, from monograph publications, to journal articles, to exhibition catalogues (The National Review of Live Art 1979 - 2010: A Personal History - essays, anecdotes, drawings and images, 2010) and practice (Nature Walks and Talks) and 40 Walks.
‌Research Projects
I am currently engaged in two areas of research: Walking and Performance, and Performance and Forests.
The first extends from my research into women artists and walking, as well as 40 Walks and The Walking Library. I am a co-investigator on an AHRC project, Walking interconnections: Performing conversations of sustainability, part of the AHRC's Connected Communities scheme. I am also on the Steering Group of the AHRC network, Footwork - The Walking Artists Network as Mobile Community.
The second – Performance and Forests – links back in some ways to autobiography (my father was a forester), but also to my membership of an AHRC network, Reflecting on Environmental Change through Site-Based Performance and work undertaken for a special themed edition on 'Environmentalism' in applied drama, for Research in Drama Education (17.2, 2012). I am a research participant in the AHRC project, In conversation with...:co-designing with more-than-human communities, one strand of which will focus on trees. My own project explores what sort of site the forest is for performance and what performance does in and to the forest, working towards completing a monograph (Performing the Forest). Many walks take place in forests, of course, which brings me (too neatly perhaps) full circle.
40walks.wordpress.com/
walkinglibraryproject.wordpress.com/
walkinginterconnections.com/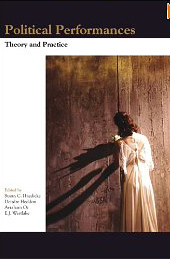 External Awards

2015: PI, Creative Scotland, £15,000
2014: CI, AHRC Connected Communities Festival, £25,000
2014: PI, AHRC, Being Human Festival, £1,500
2013: CI, AHRC Connected Communities, £31,744
2013: PI, AHRC Skills Development £40,000
2012: AHRC Collaborative Doctoral Award £54,504
2012: AHRC Skills Development £59,200
2012: Carnegie £1620
2008-09: British Academy Small Grants £2474
2007-10: AHRC Collaborative Doctoral Award £50,000
2006-09: AHRC Creative Fellowship (Adrian Howells) £170,266
2005/6: AHRC Research Leave Scheme £14,000
2004: AHRB Small Grants in the Creative and Performing Arts £2,000
2001: AHRB Small Grants in the Creative and Performing Arts £836
1992: SAAS PhD Scholarship
I welcome PhD and Masters by Research applications from students in the areas of contemporary performance and theatre practice, including practice-based or practice-led research. I have particular interests in: auto/biographical work, including documentary and verbatim drama; environmental performance/performance and ecology; walking aesthetics; feminist performance and live art; and collaborative forms of theatre practice.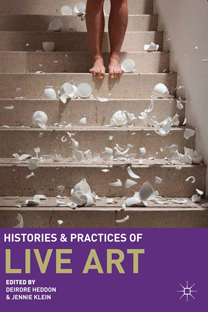 Current students:
Sarah Hopfinger, 'Sustaining the imagination: theatre and learning for sustainability'
Leila Riszko, 'How do body politics and notions of liveness and embodiment affect the production and reception of 'abject' performance practice?'
Harry Wilson
Graduated PhD students:
Cara Berger, 'Lacanian Feminist Theory in Relation to Postdramatic Performance Practice'
Lucy Amsden, 'The Teacher and the Clown – the Pedagogy of Philippe Gaulier'
Clare Louise Duffy: 'Practice as Research: Writing a Queer Aesthetic'
David Overend: 'Underneath the Arches: Developing a relational performance aesthetic in response to a specific cultural site'
Laura Bissell: 'The Posthuman Body in Performance'
Graduated Masters by Research students:
Minna Ella Aaltonen: 'Touch, Taste and Devour. Phenomenology of film and the film experiencer in 'cinema of sensations'.'
Victoria Payton: 'The rules and structures of participation'
Laura Cameron-Lewis: 'The Sublimation of Space -What methodologies might be created for exploration of the (socially-networked) identity in performance, examining the discourse between 'virtual-site' and 'real-site'.'
Harry Wilson: 'The role of the Director in contemporary collaborative and devised theatre'
Maria Gill: 'Intimacy and Autobiography in Performance'
Ella Finer: 'Shadow, Light, and Gender in Performance'
Dee is on research leave this academic year.
Autobiography and Performance
Level 1 Theatre Studies
Honours Dissertations
Masters Dissertations
Administration
Dee is on research leave this academic year
External Responsibilities
Executive Committee, UKCGE
Advisory Group, AHRC Research Careers and Training
AHRC Peer Review College
Editorial Board Member of RiDE: The Journal of Applied Theatre and Performance (Routledge); Studies in Theatre & Performance (Intellect) and Performing Ethos (Intellect)
Advisory Board, Contemporary Theatre Review (Routledge)
Board of Directors, conFAB
Advisory Board, Walking Institute (Deveron Arts)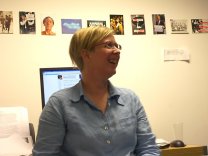 R331 Level 3, TFTV Studies, Gilmorehill Halls, Glasgow G12 8QQ