Thomas Muir comes in from the cold
The 18th Century political reformer Thomas Muir who voluntarily expelled himself from the University of Glasgow in 1785 is coming in from the cold.
Regarded by many as the 'Father of Democracy', the Bishopbriggs lawyer refused to apologise after he campaigned for the reinstatement of John Anderson (University of Strathclyde), who had accused the then principal and faculty members of mismanaging funds. Muir subsequently expelled himself.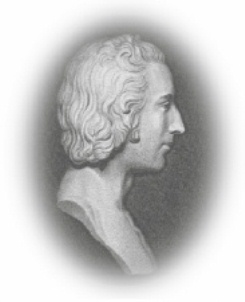 He later campaigned for political reform, demanding greater democratic rights for the people. This angered the political establishment, seeing him as a ring leader, and they tried him for sedition in 1793.
Muir was found guilty and banished to Botany Bay, Australia, for 14 years, but the trial was widely regarded as a fix. He escaped from Australia two years later and fled to France, calling on the French Government to "liberate Scotland" but he died two years later.
Thomas Muir's reputation was so damaged among the establishment he was almost airbrushed out of history. There are no Thomas Muir statues in Glasgow, although there is a bust of Thomas Muir in the Bishopbriggs Library, and the National Portrait Gallery only has a small image of him in contrast to a considerably larger painting of the judge, Lord Braxfield, who condemned him.
But Thomas Muir could be coming in from the cold at the University of Glasgow.
The 250th anniversary of Thomas Muir's birth is on Friday (October 30) and for the first time in centuries the University will study the evidence of his self-inflicted expulsion, and discuss his life as a student, his politics and his achievements.
Professor Gerard Carruthers, Francis Hutcheson Chair of Scottish Literature, said: "The symposium is recognition that Thomas Muir is coming in from the cold after 250 years. It is recognition that he fought for what he believed in."
"Muir was a man of conscience. He was also thrown out of almost every club to which he ever belonged. The Church of Scotland, the Faculty of Advocates and the University of Glasgow to name a few. He was divisive and argumentative but he was also passionate when it came to what he believed in. Throughout his life he didn't care who he upset, if it was something he strongly believed in he would not give up."
The Thomas Muir Symposium, hosted by the University of Glasgow's Burns Centre, will be held in The Humanities Lecture Theatre, from 12noon – 5pm, October 30. Admission is free.
---
Find out more
Media enquiries: Jane.chilton@glasgow.ac.uk / 0141 330 7126
First published: 25 October 2015