Former Education Secretary joins University of Glasgow
The former Cabinet Secretary for Education and Lifelong Learning Michael Russell MSP is to join the University of Glasgow on a part time basis as a Professor in Scottish Culture and Governance with links to both the College of Social Sciences and the College of Arts. The appointment will begin on 11 May 2015.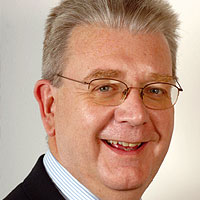 Mr Russell will be engaged in a range of activities, including teaching and research and will also deliver an annual public lecture on aspects of Scottish culture and society.
A graduate of the University of Edinburgh, Michael Russell was Chief Executive of the SNP before serving as an MSP from 1999-2003 and again from 2007. He was Minister for the Environment from 2007-9, and Cabinet Secretary for Education and Lifelong Learning from 2009-2014. Mr Russell is also an accomplished television director, cultural and media commentator and is the author of several books, many of which focus on Scottish culture and politics.
The Principal and Vice Chancellor of the University of Glasgow, Professor Anton Muscatelli said, "I am absolutely delighted that Michael is joining the University of Glasgow. As well as being a former Cabinet Secretary for Education Michael has a long background and interest in Scottish culture and society. His knowledge and insights will be of tremendous benefit to our students and staff and we are all very much looking forward to working with him."
Mr Russell said, "I am delighted to be joining the University of Glasgow and am grateful for this new and exciting opportunity. Glasgow is one of the top 100 universities in the world and under Anton's leadership it is contributing greatly to the excellence of Scottish Higher Education and Research. I am looking forward to working on issues that are close to my heart, to sharing some of my experience of Government and Scottish culture with students and to collaborating with the many very fine scholars who are part of the community of the university."
---
Media enquiries: media@glasgow.ac.uk; 01413303535
First published: 11 May 2015