5,000 medical consultation letters tell the story of William Cullen
Did your ancestors write to an 18th century doctor for advice and, if so, what would he have prescribed them? The answers can be found in the online archive of the consultation letters of one the 18th Century's leading Scottish Medics being launched today at the Royal College of Physicians of Edinburgh.
For the last four years, researchers from the University of Glasgow have been creating a publicly accessible online digital edition of the medical correspondence of Dr William Cullen (1710-1790) one of the treasures held in the Sibbald Library of the Royal College of Physicians of Edinburgh.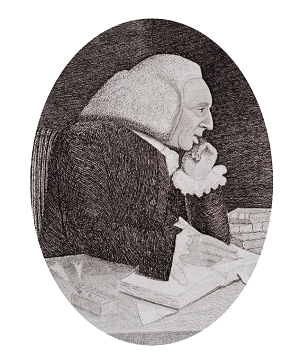 Uniquely, Cullen retained all his letters and responses, which together form a remarkable collection of over five thousand items. Cullen began his career as a medical lecturer and teacher of chemistry at the University of Glasgow. He rose to international fame as the leading figure in the University of Edinburgh's Medical School, served as President of the Royal College of Physicians of Edinburgh, and was appointed the King's Physician in Scotland.
Cullen was the most influential medical lecturer of his generation who drew thousands of students to the Edinburgh Medical School. As the pre-eminent Scottish medical figure of his day, Cullen's opinion was in high demand and people wrote to him from around the world requesting his advice on treatments.
Cullen preserved a unique record of his postal medical correspondence from the mid-1750s to 1790 containing over 5,000 letters from patients along with copies of his responses. Cullen's correspondence covers a range of social classes and geographical locations. A Scottish plantation owner writes from Charleston asking how to cure an American slave's epilepsy, there are enquiries about a Russian Princess with gout and a patient who became ill after eating a surfeit of cucumbers. Famous patients include the dying Samuel Johnson - James Boswell writes asking asks Cullen for advice.
While Cullen's advice as a respected practitioner reveals his modern-sounding concerns with the health benefits of diet, exercise and travel the letters also detail a range of more unusual treatments, including cold bathing, purges, vomits, issues, flesh brushing and leeches for conditions that range from fevers and colics to horrors, scabs, teethings and deleriums.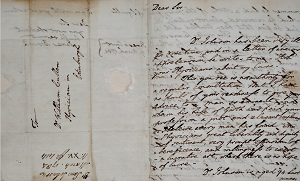 Until today Cullen's papers could only be accessed by visiting the Sibbald Library. Over 300 years after his birth, the launch of this dedicated interactive web edition will widen access and provide a great resource for academics, practitioners, students and anyone who wants to learn more about the history of medicine and the 18th century. Postal historians will find the collection fascinating as will management consultants - the collection contains examples of early office automation - after 1781 Cullen's replies they were duplicated with the "mechanical copier" invented by James Watt.
Dr David Shuttleton, Reader in Literature and Medical Culture at the University of Glasgow, who lead the project, said: "We are delighted to be able to make this new interactive archive available to the general public. What makes the resource so valuable is not simply the size of it, but being able to hear the diverse voices from the broad range of people Cullen corresponded with.
"Until now, the sheer physical scale of this archive prevented these important historical artefacts from being studied properly but we believe that this new resource will offer considerable new insights, not only into the history of eighteenth century medical practice, but also into wider society at that time."
Prof Derek Bell, President of the Royal College of Physicians of Edinburgh, said, "The Sibbald Library in the Royal College of Physicians of Edinburgh was founded in 1682 and contains one of the World's great collections of historic medical books. We are proud to be the custodians of past president William Cullen's fascinating correspondence which we have carefully preserved and catalogued. In 2015 the College is making its collections as widely accessible as possible and we are delighted to have participated in this important academic collaboration with the University of Glasgow. We hope Cullen's letters will reach a new and much wider audience nationally and internationally".
---
Media enquiries:
University of Glasgow: nick.wade@glasgow.ac.uk / 07837097159
Royal College of Physicians of Edinburgh: g.mcalister@rcpe.ac.uk / 07733-263453
Notes for editors:
The digital edition of The Consultation Letters of Dr William Cullen will be launched at a special event which will take place at the Royal College of Physicians of Edinburgh from 2.00- 6.30pm on Monday 11 May 2015. Journalists wishing to interview Dr Shuttleton or Prof Bell should contact Nick Wade or Graeme McAlister using the above details. Selected original letters from the Cullen Collection will be on display during this event and high-resolution images can also be supplied for media use.
'The Cullen Project' is an AHRC-funded collaboration between the University of Glasgow and the Royal College of Physicians of Edinburgh (RCPE), overseen by Dr David Shuttleton, Reader in Literature and Medical Culture at the University of Glasgow.
First published: 8 May 2015