Funding boost for nuclear physics research partnership
Nuclear physicists from the University of Glasgow are sharing in a £7m investment from the Science and Technology Facilities Council (STFC).
A partnership between the Universities of Edinburgh and Glasgow and the Thomas Jefferson National Accelerator Facility in the US is one of three nuclear physics projects supported by the funding announced today.
The £1.5m funding will help support work to upgrade the Thomas Jefferson National Accelerator Facility's Continuous Electron Beam Accelerator Facility (JLab).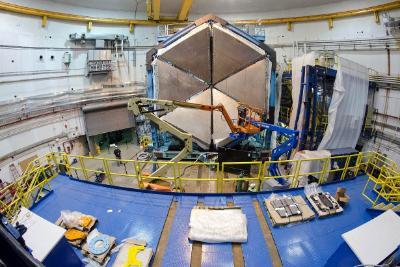 The scientific vision behind the upgrade at JLab is to delve even deeper into the mysteries of matter in the universe, answering fundamental questions, such as how constituent quarks acquire mass, and why they are confined, as well as to study the limits of the 'Standard Model'.
The £1.5 million funding will enable UK groups to make a significant impact in this exciting science programme at the upgraded lab and exploit the synergies of leading research in two collaborations – CLAS and Hall A – to develop three well-chosen and cost-effective detector subsystems.
Contribution to the world's leading hadron physics facility will enable the UK to continue leadership of its science in the areas of hadron spectroscopy and nucleon structure. It will enable the UK to capitalise on its current leadership roles in the future programme - the Glasgow and Edinburgh nuclear physics groups already occupy prominent roles in the development of this project.
Professor David Ireland will lead the University of Glasgow's contribution to the project.
Professor Ireland said: "It is a not-very-well-known fact that 98% of the mass of visible matter in the universe is not due to the Higgs boson. Instead, the mass of the protons and neutrons, which make up nuclei, comes from complicated interactions of the quarks inside them. This mechanism is still not clear to us, and the JLab12 GeV upgrade will give us a unique opportunity to improve our understanding of 'ordinary' nuclear matter. I am delighted to be playing a part in this exciting research."
Hugh Montgomery, director of the Jefferson Lab, said: "While Jefferson Lab receives its base funding from the US Department of Energy, the experiments we mount and our 1300 active users receive support from other agencies. We are especially proud of the international contributions and see this investment from the United Kingdom as a resounding vote of confidence in the strength and importance of our 12 GeV programme. "
In addition to the grant to the Universities of Edinburgh and Glasgow, STFC are providing £2.5m to the Universities of Birmingham and Liverpool to upgrade the ALICE experiment at the Large Hadron Collider at CERN in Switzerland. The Universities of Edinburgh, Liverpool, Manchester, Surrey and York will also receive £3m to develop a a major component of a wider European initiative that will exploit the heavy ion storage-ring facility, TSR, to be installed at the CERN's HIE-ISOLDE radioactive-beam accelerator.
STFC's Chief Executive, Professor John Womersley, said: "As the UK sponsor of nuclear physics, STFC's investment reinforces our commitment to keeping the UK at the forefront of nuclear physics research. It will lead to built–in opportunities for the UK to both contribute to and profit from new technologies. This is a very exciting time to be involved in nuclear physics and will provide vital inspiration for the UK's next generation of nuclear physicists and engineers."
---
Media enquiries: ross.barker@glasgow.ac.uk / 0141 330 3535
First published: 27 March 2015