University of Glasgow holds funeral and memorial service for William McIlvanney
A funeral and memorial service will be held at the University of Glasgow for alumnus William McIlvanney.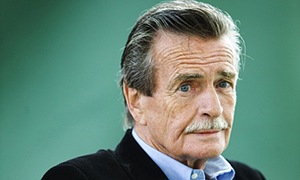 William McIlvanney, writer, poet and political thinker, died last week after a short illness. He was 79.
His funeral service will take place in the University Memorial Chapel on Wednesday 16 December at 12.30 pm followed by a Service of Cremation at Clydebank Crematorium at 2.30pm. The funeral in the chapel is for family and friends only.
A Memorial Service will be held in the Bute Hall on Saturday 2 April at 3.00pm.
William Angus McIlvanney graduated from the University of Glasgow MA in 1959. Read more about his life at The University of Glasgow story.
---
Media Enquiries: jane.chilton@glasgow.ac.uk / 0141 330 3535
First published: 7 December 2015