Eating breakfast daily may help to prevent early development of diabetes risk in children
Children who eat breakfast daily have a lower risk of developing Type 2 diabetes than those who skip it or only eat it occasionally, says new research.
It also found that among children eating breakfast, those who eat a high-fibre breakfast cereal also have lower type 2 diabetes risk profiles, indicated by blood samples revealing insulin resistance, compared to children who eat a breakfast with a lower fibre content.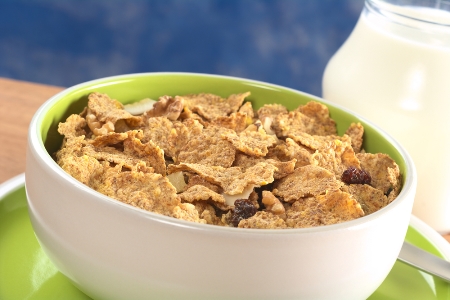 The researchers at St George's, University of London, and the Universities of Oxford and Glasgow supported by Diabetes UK, say their findings could aid the development of strategies to combat rising diabetes levels in young people in the UK.
More than 4,000 primary school children, aged nine and 10 years and from London, Birmingham and Leicester, were asked about their breakfast habits in the study.
The children also provided fasting blood samples, physical measurements and detailed dietary data in order for the team to investigate the differences in risk indicators according to breakfast habits.
Children who reported eating a breakfast every day had consistently better diabetes risk profiles compared to the children who did not eat breakfast daily, regardless of differences in body fat, socioeconomic status or physical activity levels.
Among children who did eat breakfast daily, those children eating a high fibre breakfast cereal had the lowest insulin resistance, which is an important marker of future type 2 diabetes risk.
Professor Naveed Sattar, Professor of Metabolic Medicine in the University of Glasgow's Institute of Cardiovascular and Medical Sciences, and co-author of the paper which is published in PLOS Medicine, said: "Whilst these data are not from a trial, they suggest parents should be encouraging children to eat breakfast, and in particular cereal rich in fibre for which there is now a wide selection. By doing so, we may help in the battle against diabetes which is still rising at alarming rates in younger adults, and now also seen in children. Future trials are now also needed in this area and are being developed."
Dr Angela Donin, of the Population Health Research Institute at St George's, University of London, who led the research, said: "These findings provide further evidence of the importance of a daily breakfast for long-term health.
"It is concerning to note that more than 1 in 4 children in our study reported not eating breakfast every day. For children, eating a sensible breakfast every day, one which is high in fibre, may well help to reduce future risk of developing Type 2 diabetes."
The rising prevalence of type 2 diabetes is a major public health concern and one which is affecting increasingly younger age groups. Diet plays an important role in the development of the disease but it is not clear what particular components are important or to what extent certain diet choices may influence risk. Few studies have addressed these questions in children.
Find out more
---
First published: 3 September 2014