Related Links
It's Go Scotland! for 13 University athletes
Issued: Fri, 13 Jun 2014 17:30:00 BST
Congratulations go to the thirteen University of Glasgow students, staff and alumni who have been selected as Team Scotland athletes for the Commonwealth Games in their home city.
"It is a phenomenal achievement to be selected to represent your country at a Commonwealth Games and is the result of many years of hard work by our athletes, combining 15-plus hours of training per week, extensive competition schedules and very challenging academic degrees day in day out, week in week out and year in year out," said the Principal and Vice-Chancellor, Professor Anton Muscatelli.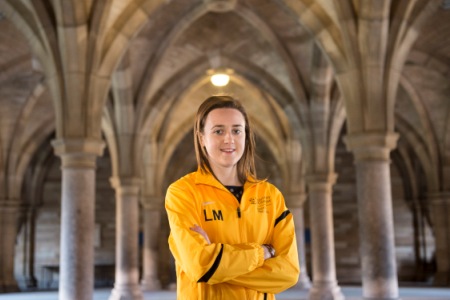 Laura Muir, selected to run in the 800m/1500m events
The athletes had already excelled by being selected for Team Scotland – regardless of how they do at the Games - as Scotland's selection criteria were among the hardest of any nation, he added.
"It is very satisfying to know that the procedures and processes which the University has introduced, along with the efforts of our dedicated staff and departments - both sporting and academic - have empowered these athletes and supported them to excel not only in an academic environment but also in a sporting one," said Professor Muscatelli.
He urged members of the University community who were lucky enough to have tickets for Glasgow 2014 events to give an extra-special cheer to the University's athletes as they were not only representing Scotland but also the "black and gold" of Glasgow.
The University's athletes are as follows:
Students
Laura Muir (800m/1500m)
Lynda Flaws (table tennis)
Camilla Hattersley (swimming)
Nicola Strastin (hockey)
Staff
Hayley Haining (marathon)
Alumni
Iain Scholefield (hockey)
Emily Maguire (hockey)
Derek Hawkins (track running)
June McNeil (netball)
Jax Thoirs (pole vault)
Susan McGilveray (hockey)
Angus McInroy (discus)
Susan Partridge (marathon)
Another student, Muhammad Shahzad, has been selected as Pakistan's only lawn bowls representative.
Find out more
---
Media Enquiries: Liz.Buie@glasgow.ac.uk / 0141 330 2702 / 07527 335373
Related Links