Stratified Medicine Scotland Innovation Centre officially opened
A cutting-edge £20m centre that could help revolutionise healthcare and herald an era of personalised medicine has been officially opened.
The Stratified Medicine Scotland Innovation Centre (SMS-IC) was officially inaugurated by Mr Laurence Howells, Chief Executive of the Scottish Funding Council (SFC) at its temporary premises in Inchinnan where it will be located until moving to the South Glasgow Hospitals Campus during 2015.
The SMS-IC will provide state-of-the-art DNA and RNA sequencing capabilities which will enable scientists to study how the distinctive genomic profile of individuals or groups of patients with a disease may predict responsiveness to different drugs and thus optimise drug therapy.
This means in medical practice that doctors will, in future, be able to prescribe the best possible medicines for individual patients, rather than standard drugs which may not benefit the patient or cause unwanted side effects. It will also allow drug companies to conduct clinical trials using specific "stratified" groups of patients where there is a high probability of the new drug working. This will improve the number of new drugs reaching the market in Scotland and beyond.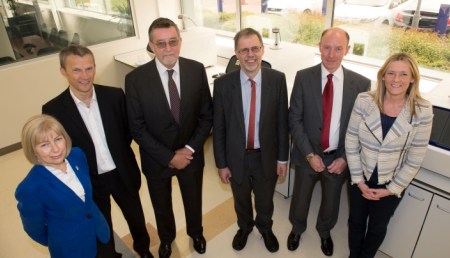 The SMS-IC, which received £8m from the SFC, is integral to the development of this exciting new field of medicine in Scotland and involves a consortium of university, NHS and industry partners including the Universities of Glasgow, Edinburgh, Aberdeen and Dundee with NHS Greater Glasgow and Clyde, NHS Grampian, NHS Lothian and NHS Tayside, and industry partners Aridhia Informatics and ThermoFisher Scientific.
The Centre will initially have a primary focus on validating new modes of treatment for chronic diseases and conditions, including cancer, stroke, diabetes, rheumatoid arthritis, multiple sclerosis, and other respiratory and cardiovascular diseases.
Laurence Howells, Chief Executive of the Scottish Funding Council, said: "I am absolutely delighted to officially open the Stratified Medicine Scotland Innovation Centre today.
"Our £8m investment will ensure that the ground-breaking research and collaborations this Centre facilitates will create life-changing innovations. People suffering from chronic diseases like cancer, stroke and diabetes will benefit in future by being prescribed the most effective medicines possible."
Alex Neil MSP, Cabinet Secretary for Health and Well-being said: "The translation of stratified medicine and informatics into the NHS way of working is essential if we are to achieve our ambitions for radical changes to patient care through improved diagnostics and treatments. That is why I welcome the launch of the Stratified Medicine Scotland Innovation Centre as it demonstrates our support for this emerging and important field of medical research. The SMS-IC will have access to state of the art research facilities that should drive Scotland to the forefront of this exciting area and bring about new innovations in healthcare."
Dr David U'Prichard, Executive Board Chair of the SMS-IC, said: "It is wonderful to see the facility opened and operational, and the Board and I look forward to overseeing the pivotal contribution the Centre will make to pioneering advances in healthcare in the coming years."

Professor Anna Dominiczak, Vice Principal and Head of the College of Medical, Veterinary, and Life Sciences at the University of Glasgow, said: "This facility is an exciting partnership between the NHS, academia and industry that really puts Scotland at the forefront of stratified medicine and is crucial to the development more effective treatments for patients."
David Sibbald, Co-founder and CEO of Aridhia Informatics, said: "We are excited to have AnalytiXagility, our collaborative data science platform being deployed by SMS-IC to help answer some of the key questions in treating chronic diseases"
Rob Brainin, General Manager for Thermo Fisher Scientific's Enterprise Genomics Business, said: "As a key industry partner we are thrilled that the SMS-IC will be utilizing Ion Torrent semiconductor based DNA sequencing technology in this research to help change the way that healthcare will be practiced."
Professor Andrew Morris, Chief Scientist Health and Convenor of Health Sciences Scotland, said: "It is a great day for Scotland that we have brought together such a strong collaboration of high speed computing, proton-based DNA sequencing and key opinion leaders in the NHS and academic sectors to make stratified medicine a reality".
SME partners include Arrayjet, Axis Shield, Biopta, DestiNA Genomics, Fios Genomics and Sistemic Ltd.
---
Media enquiries: stuart.forsyth@glasgow.ac.uk / 0141 330 4831
First published: 2 June 2014