University launches Gaelic Plan
The University of Glasgow have launched its first Gaelic Language Plan. The commitments outlined in the 5-year policy demonstrate the University's ongoing support for Gaelic language and culture and its aspiration to increase the profile and use of Gaelic within its day-to-day operations, throughout the city of Glasgow and both nationally and internationally.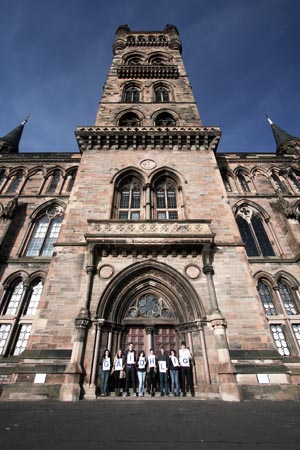 The plan underlines the support that the University of Glasgow makes to one of Scotland's ancient languages and recognises the importance of Gaelic in modern society. In practical terms it will involve the development of Gaelic language and culture within the context of key functions identified by Bòrd na Gàidhlig, the National Development Agency for Gaelic, including: Communications, Staffing, Publications and Identity. In addition to this, the University has identified a number of commitments it will make to incorporate Gaelic into the Student Experience at Glasgow which take forward the work of the pioneering Gaelic Language Initiative which was established in 2009.
The Principal and Vice Chancellor of the University of Glasgow, Professor Anton Muscatelli said, "Gaelic is a significant part of Scotland's cultural and social identity. We are justifiably proud that it has been taught on campus for more than a century. Given the recent resurgence of interest in Gaelic across Scotland and especially within the city of Glasgow, now is the right time to launch our Gaelic language plan for the University of Glasgow. We look forward to implementing the plan and building upon our achievements to date in terms of both Gaelic academia and Gaelic language development. The University aspires to securing the status of Gaelic as an official language of Scotland."
The University of Glasgow was asked to prepare a Gaelic Language Plan by Bòrd na Gàidhlig under the terms of the Gaelic Language (Scotland)Act 2005 and for the past year, has been developing the Plan both internally and with external organisations in Glasgow and throughout Scotland. In addition, a six-week public consultation was conducted in July 2012 when staff, students and the general public were invited to comment on the proposals set out in the Plan. The constructive feedback from this process was especially helpful in drafting the proposals and ensuring that the measures that will now be adopted are inclusive and in keeping with the overall strategy of the University.
Fiona Dunn, Gaelic Language Officer at the University of Glasgow said: "It has been a pleasure to develop this important and significant plan with colleagues from within the University, with our students and alumni, the general public and others who have an interest in the language. Our consultation work with key stakeholders has allowed us to prepare a Plan which we believe is relevant and inclusive to the University of Glasgow and I believe it will make a very meaningful contribution to the ongoing revitalisation of Gaelic."
The University's Gaelic Language Plan was formally approved by Bòrd naGàidhlig on 10th December 2012.
---
Editorial Notes:
First published: 13 March 2013